Over the past few months, I've been showcasing paper projects using pretty blush coloured papers that were hand dyed.
The homemade dye is made using one simple ingredient…. avocados!
This dye is extremely easy to make and creates the prettiest blush pink tones.
Although I was intending to use blush papers in my projects, the paper wasn't the only thing I dyed in my avocado dye bath…. I also soaked ribbons, laces, doilies and fabric.
And I absolutely loved how the fabrics turned out. I knew I needed to make something luscious, pretty and pink, incorporating all of the avocado dyed fabrics and laces.
But first things first…. let me tell you how easy it is to make your own avocado Dye.
How To Make Avocado Dye
My family eats avocados every week, so I make a fresh pot of dye when I need it and tend to only make a litre (4 cups of liquid) at a time.
I use the skins and pits from 2 avocados – the more avocados you use the darker the dye. I like just a hint of blush colouring, so 2 avocados seem to work well for my requirements.
Making the dye: Add the avocado skins and pits to one litre (4 cups) of water and bring to the boil, then reduce the heat to a simmer. I allow mine to simmer away for about 45 minutes to one hour. The colour becomes quite dark. Strain the water to remove the avocado skins and pits.
You could use the dye while it is hot, but I prefer to let it cool and keep my dye for several days in a container. When I'm ready to dye, I collect all of the things I want to dye; paper, card, tags, doilies, ribbon, laces, fabric, paper flowers etc.
Because I like just a hint of blush, I dip my items in the bowl filled with dye for just a minute or so. Obviously the longer you leave the item in the dye, the darker the colour you will achieve.
For fabrics, I wring out the excess dye and line dry. Paper products are dried out in the sun. As I live in a warm climate, this is the easiest option for me, but you can also dry your papers in an oven on low.
So there you have it…. easy avocado dye! Simply boil, soak and dry.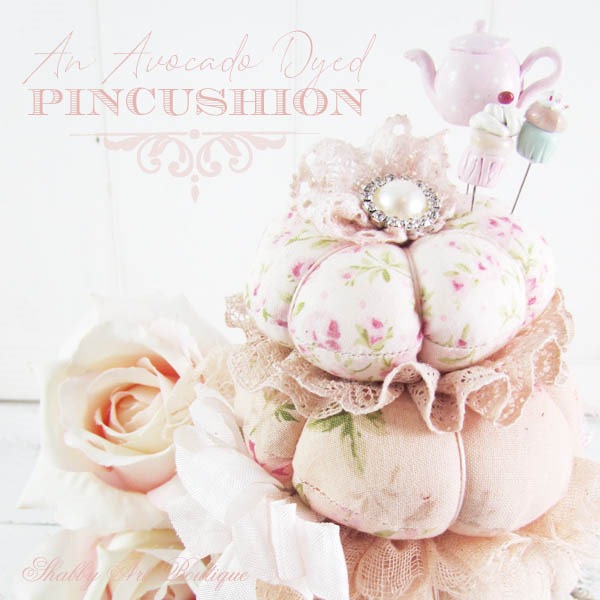 I loved the combination of pretty fabrics that I dyed. There were pretty floral scraps, calico and muslin. Together they had such a vintage look and I knew I wanted to make something that incorporated all of them in the one project…. a layered vintage floral pincushion.
Hmm… I bet some of you are saying "doesn't she have enough pincushions already". Well, yes I do have quite a few, but can a crafter ever have too many pincushions?
Make this Pretty Blush Pincushion in just 2 hours
Materials
3 different avocado dyed fabrics – small scraps

avocado dyed laces or muslin

Embroidery cotton and a large doll needle

sewing machine and normal sewing supplies

Hobby fill

hot glue gun

a container to hold your pincushions eg, small bowl, teacup or tart tin.
1. Make 3 circle templates for your pincushions. Mine were 13 cm, 11 cm and 9 cm in diameter.
Fold your first piece of fabric in half, right sides together and trace around your circle template. Repeat process for the remaining two fabric pieces.
2. Using your sewing machine, sew around each circle, leaving a small opening in the seam for turning through. Trim fabric excess and turn circle right side out. Press with an iron.
3. Stuff each pincushion with hobby fill until you have a round ball. Using the large doll needle threaded with an extra large length of embroidery cotton, insert the needle in the center of the ball from top to bottom. I have a photo tutorial of this step on this post. Take thread around the outside and insert in the same spot again. Pull cotton tight to make a dent. Continue making the same stitch until you have divided the ball into four equal parts. Continue working around the ball, adding another segment in each of the previously made quadrants.
4. When you have completed your three pincushions, they are going to be stacked on top of each other and placed in a vessel. I used a small tarnished vintage bowl for mine. Between each pincushion layer, I used gathered lace and muslin to create texture and interest. I particularly liked the frayed edge of the muslin strip. I hand gathered my laces and used a hot glue gun to assemble my pincushions. There's no right or wrong with this step… just enjoy creating a tower of gorgeousness!!
All of the items used in my pincushion were dyed with avocado dye and I love the subtle variations in colour. If you make your own avocado dye, I'd love to see what you make with it.
[PIN this image for later]
In my next post I'll be sharing how I made the decorative pin toppers!
If you'd like more pincushion tutorials I have more HERE, HERE and HERE.
Happy crafting my friends!!
Hugs
♥
Kerryanne
I'd love for you to connect with me at:
Follow on Bloglovin
or if you'd like my posts delivered directly to your Inbox
Subscribe to Shabby Art Boutique by Email
If you'd like a private pass to all things 'shabbilicious, sign up today for my fortnightly newsletter.
It contains personal stories, sneak peeks, recommendations, discounts and freebies.