Some of the techniques I use when crafting have been around for a long time.
Often I just assume everyone else knows how to do it too, so it's not until someone actually emails me and asks how I did it, that I think about sharing a particular technique.
So… today I'm going to show you the two different ways I dye and crinkle seam binding ribbon.
To give cream ribbon a vintage look I like to dye it using either tea, coffee or Parisienne Essence. Which one you use comes down to personal preference.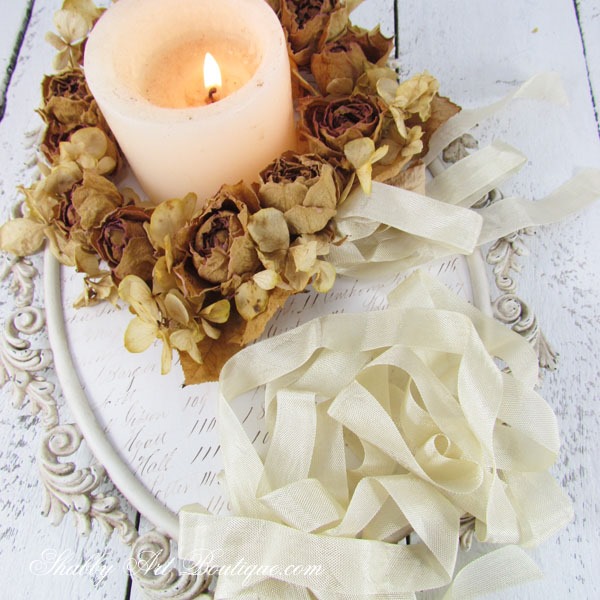 I usually dye my seam bindings in approximately 1.5 – 2 metre lengths.
Method #1
For this method I start by scrunching up the ribbon and tying it in a ball with a rubber band or a mini hair tie.
Next, pop it in a small bowl of dye… for this one I used 1 teaspoon of instant coffee dissolved in about 1/2 cup boiling water.
Leave it there for about 10 minutes or until you achieve a colour you are satisfied with. This step is a variable, depending on what you are using to dye with and how diluted it is etc.
Lift it out and leave in to dry overnight.
For this method you will achieve a mottled dark edge result, which is obvious in the image below.
When it is dry, release the rubber band and you'll have a crinkled ribbon.
Method #2
Place loose ribbon into dye and leave to soak until desired colour is achieved.
Remove loose ribbon from dye solution and squeeze out excess liquid.
Scrunch ribbon up into a ball, as in the previous method and tie with a rubber band.
Leave overnight to dry.
No matter whether you use method 1 or 2, when you remove the rubber band and loosen the ribbon, the crinkled result will be the same.
Crinkled seam binding without dyeing
If you'd like to crinkle coloured seam binding ribbon without dyeing, simply moisten ribbon with water and then scrunch in a ball and secure with a rubber band.
You may also like my post on using coffee dye for a vintage look.
Happy crafting
♥
Kerryanne
I'd love for you to connect with me at:
Follow on Bloglovin
or if you'd like my posts delivered directly to your Inbox
Subscribe to Shabby Art Boutique by Email
If you'd like a private pass to all things 'shabbilicious, sign up today for my fortnightly newsletter. It contains personal stories, sneak peeks, recommendations, discounts and freebies.