Hello 'shabbilicious' friends,
These are new and uncharted times…. our routines and world feel different right now and isolation can be challenging.
Being someone that works from home anyway, staying safe and staying home hasn't been a great change for me, but naturally there are things I miss…. like hugs. I'm a notorious touchy, feely 'hugger'. I hug when saying hello and I hug for a goodbye… and well, just about any reason really.
As weird and as challenging as life might feel right now, I want to encourage you to remain positive and think about when this is all over (and it will be over)… perhaps think about the things we'll look forward to doing again…. like hugging!
And while I've been reflecting on this in my craft room today, I looked around and my sweet bunnies made me smile…. and I knew right then that I wanted to create a bunny to make you SMILE too.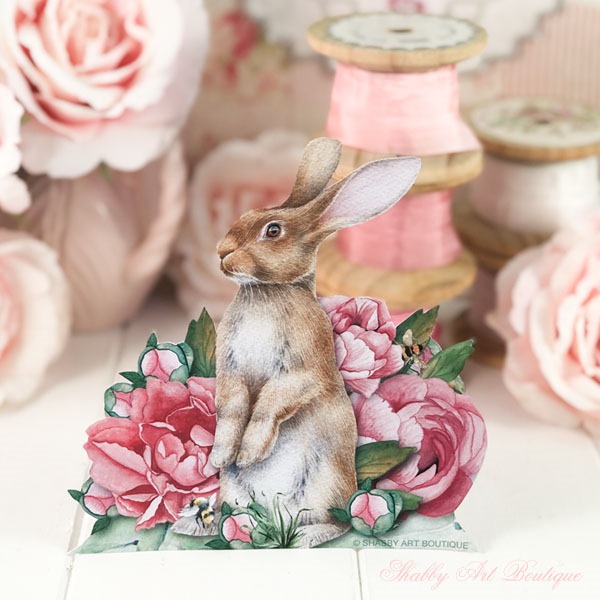 So I created this sweet 'spring bunny amongst the peonies' as my gift to YOU.
May she bring some cheer to your day!!
My Spring Bunny stands 15 cm tall and can be fussy cut… I also added in another smaller one that would be perfect to use on a card or tag or in a journal.
How to Download the Spring Bunny Printable
This is a single page printable in a PDF file that can be downloaded as either an A4 or Letter (USA) size file.
I printed my Spring Bunny on a sheet of 250 gram matte photo paper, which was heavy enough to hold its shape, allowing it to be used in vignettes etc.
Simply download, print and cut out with either sharp pointy nosed scissors or a craft knife.
I've added the Spring Bunny printable to my newsletter subscribers Member's Printables page.
Don't forget, the password is on the latest newsletter email and will also be in the email going out today.
Not yet a Shabby Art Boutique newsletter subscriber? That's okay…. you can subscribe to my newsletter here to gain access to the free printables.
I send out a newsletter usually twice a month and your subscription comes with FREE unlimited access to the Member's Printable Library.
[PIN for later… and so others may also enjoy this bunny]
On reflection, I do believe that these challenging times also create opportunities….. and a time to RESET.
We might have less face to face time right now, but that creates bonus time to work on self.
TIME to be creative. TIME to give to others in support. TIME to learn new skills. TIME to nurture self. TIME to build on wellness and strength.
We need to remind ourselves that this WILL NOT last forever.
How we can connect….
We might be social distancing right now, but luckily we can still connect with others online.
I know I've taken great pleasure from the positive crafting community we have in my Facebook group, Simply Shabbilicious. If you've not joined yet, please do and I promise we'll lift your spirits with our inspiring shares and crafty chatter.
Happy crafting my friends!
Hugs
♥
Kerryanne
I'd love for you to connect with me at: