Giving handmade gifts is truly a gift from the heart….
I think anyone who creates will agree.
Quite often handmade is not the cheaper option in cost or time…
But making something special for someone you love… well, that's a priceless gift!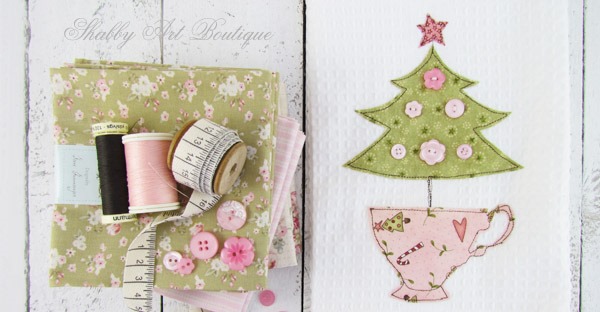 Today I'm sharing a quick handmade project that is perfect for a hostess gift.
It's a sweet shabby Christmas kitchen towel.
Of course, changing the combination of fabrics will alter the final look of this design. If shabby pastels are not your thing, you could try a bolder, modern look.
Imagine gifting this sweetie with a food gift for the hostess… or paired with other kitchen items in a hamper.
Materials
Small fabric pieces,
White tea towels,
Visoflex/Heat'n'Bond (or alternative iron on applique paper),
Buttons,
Iron,
Normal sewing supplies.
Preparations
Choosing your fabrics: This applique design is quite small, so it is perfect for using up smaller scraps of fabric. Play around with various pieces of fabric until you have a mix that works well together. Remember to pre-wash all fabrics and the tea towel to allow for shrinkage.
Trace the design from the pattern sheet onto tracing paper. I use this as a template to assist with fabric placement on the tea towel.
Trace the pattern design onto the paper side of Visoflex with a pencil.
Cut design pieces out, allowing about one centimetre allowance around the outline and iron onto the back of fabric. Never use steam when ironing Visoflex onto fabric.
Tip: For free motion stitching you will need to use either a darning foot or a free motion embroidery foot made specifically for your sewing machine brand and don't forget to drop your feed dogs. This will allow you to freely move your project with your hands rather than have the machine move it for you. Most people secure their work in a hoop and move the work around using the rim of the hoop.
This is a fun freehand style of sewing, so if you haven't tried it before, I suggest having a play around with some scrap fabric first.
Instructions
I positioned my design centrally on the lower portion of the tea towel.
Lay your tea towel on the ironing board. Remove the paper backing from your fabric pieces and position them on the tea towel, using the pattern tracing as a guide.
When you are satisfied with the placement, press fabric in place with iron.
I used a free motion stitch for the outline. As the back of my tea towel would be seen, I used white cotton for the bobbin and a dark brown for the top stitch.
Stitch the design using the pattern and photos as a guide. There really is no right or wrong with this stitching style. . . it comes down to personal taste whether you go around the outline once or twice and whether you prefer a neat stitch of a more creative stitching style.
I hand stitched pink buttons for baubles on the Christmas tree.
This is another one of those quick and easy projects that I love.
Making a few at the same time doesn't take much longer, so you can have a bunch of these made in an afternoon.
They'd make great gifts for neighbours, friends, teachers, charity hampers, church groups… or maybe just for yourself!!
Do you know someone that could use a pretty kitchen towel for Christmas?
For your convenience, affiliate links provided for supplies used in this project.
Happy festive crafting,
Hugs
♥
Kerryanne
I'd love for you to connect with me at:
Follow on Bloglovin
or if you'd like my posts delivered directly to your Inbox
Subscribe to Shabby Art Boutique by Email
If you'd like a private pass to all things 'shabbilicious, sign up today for my fortnightly newsletter. It contains personal stories, sneak peeks, recommendations, discounts and freebies.