I've always been a lover of handmade gifts…
Whether that be something made by my children at school…
Or an intricate item made by a crafty friend.
It's the love, time and thought that goes into those gifts that make them special.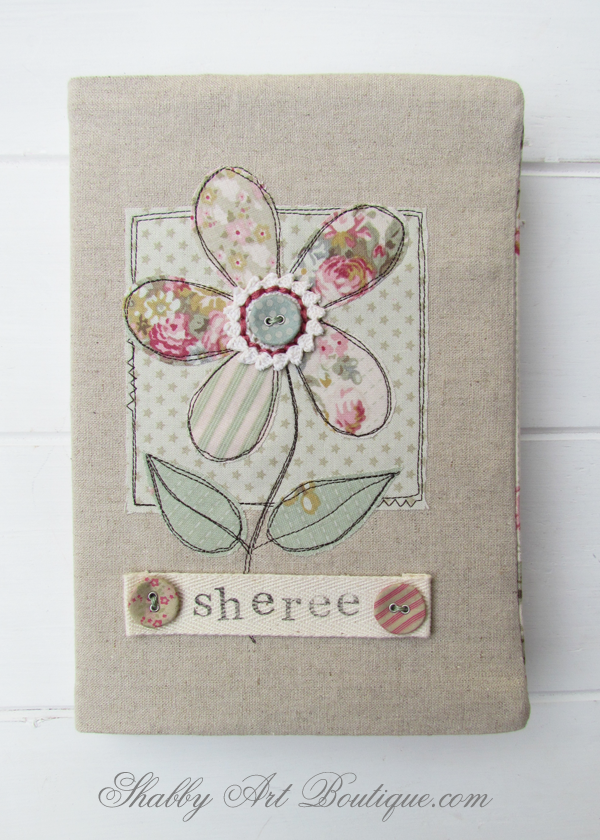 I'm a little more time challenged these days with two businesses to run,
but I still allow some creative time to make a few special hand made gifts.
They have to be quick… so covered diaries are perfect.
Almost all adults need a diary of some sort, so what's nicer than a pretty covered diary for a female friend or relative.
The ideas for decorating your fabric diary cover are endless… for this one I chose to add a simple applique and free motion stitching design. I also personalized it with the recipient's name… remember, this needed to be a quick project!
If you are using your own design, please just refer to the assembly instructions.
Materials
Diary (mine is an A5 size).
Fabrics for cover, lining and applique.
Visoflex, or any iron on applique paper – see note.
Buttons.
Small piece of cotton twill tape for name tag.
Crochet doily centre/medallion.
Alphabet stamps and permanent ink.
Normal sewing supplies.
Note: Applique papers are sold under different names all over the world. I used a paper backed, iron on paper. Visoflex is a brand sold in Australia.
There are many different ways to assemble diary/book covers… this is the easy way I do it.
Working out your measurements: this is an area where I see sewers make mistakes all the time. When taking the measurements for your diary/notebook, always measure the width of the book with the book closed.
Wrap your tape measure around the girth of your closed book.
Measure the width and height of book and add 3/4"to each measurement… this is your 1/4" seam allowance and a little extra space to assist with fitting the cover onto the book.
I haven't given you specific measurements in this tutorial, as these instructions can be used to make any sized book cover from a small diary to a large binder.
Once you have your two measurements (width and height), cut one front cover and one lining piece the same size. I used natural coloured linen for both my cover and lining.
The side panel for the inside cover is one piece of fabric that is folded in half and pressed to form a sharp edge at the fold. This panel is approximately ¾ the width of the front cover eg. if your open cover measured 20 cm wide your finished panel would be 15 cm wide. This allows enough room to slip the book cover inside the fabric cover. The height of this panel will be the same as the height of your front and lining panels. You will need two side panels – one for front and back.
Applique design
For mine, I sketched a basic design and then traced the elements onto a piece of Visoflex (applique paper).
Using an iron without steam, adhere the Visoflex designs to the back of your fabric scraps. I used some gorgeous scraps from the apron I made a few weeks back (see that here). The fabric is from the Tilda Happiness is Homemade collection. Cut out design elements.
Lay your front cover flat with right side facing up.Position your design pieces…. when you are happy with the layout, peel the backing paper off the fabric pieces and press in place with iron.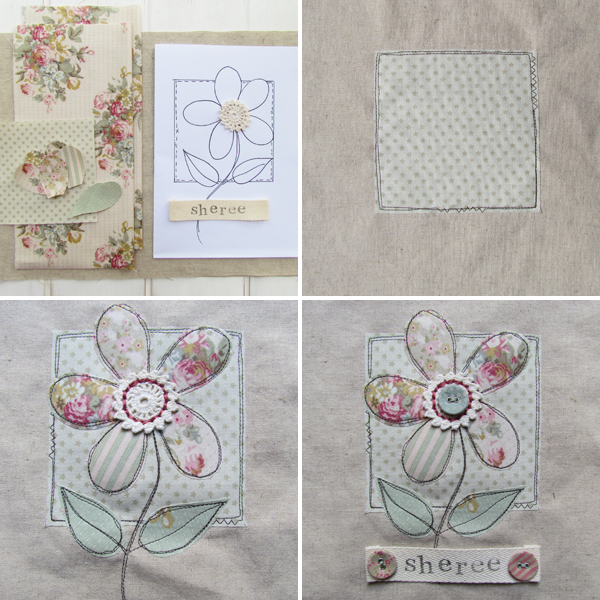 I then used a free motion stitching technique to outline all the design elements.
For the centre of my flower, I cut out the middle medallion from a crochet doily. I stitched it in place using a length of DMC cotton using a backstitch. Next I added a cute Tilda button.
The gift recipients name was stamped onto the cotton tape with permanent ink. I turned under a small hem and attached the tape to the front cover with two buttons.  Credit goes to my gorgeous friend Vikki at Sew Useful Designs for the stamped name. She recently made me a divine little bag with my name stamped on it and I love the personal touch it adds.
With the front cover completed, lay it down on a flat surface with right side facing up.
Next, place a side panel on each side of front cover with the raw edges on the outside and folded edge towards the centre. Pin in place.
For this step we are only sewing two seams – the two pinned side edges.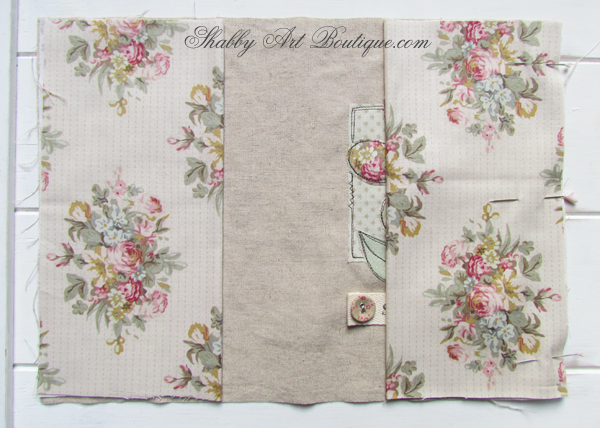 The final step is to lay your cover on a flat surface with the right side facing up, and side panels on top. Place your lining panel on top of this with the right side facing down. Pin the top and bottom long edges only and sew these two seams – the side edges will be left open.
Clip all four corners.
The side panels have been left open… simply turn your cover inside out through this opening. Press flat. Fit cover to diary.
It's that simple.
Now imagine all the possibilities using different fabrics, embellishments like lace, doilies, brooches, fabric flowers etc. They are a great way to use up scraps and project leftovers too!
I'll be making a few more of these and I know every one of them will be completely different…. and made with a whole lot of love!
Happy Christmas crafting,
Kerryanne
I'd love for you to connect with me at:
Follow on Bloglovin
or if you'd like my posts delivered directly to your Inbox
Subscribe to Shabby Art Boutique by Email
If you'd like a private pass to all things 'shabbilicious, sign up today for my fortnightly newsletter. It contains personal stories, sneak peeks, recommendations, discounts and freebies.