I've spent the first week of November making lists and planning.
Ahhh…. the fabulous To-Do list!! It's a time-honoured system that's perfect in its simplicity. One can establish what needs to be done and in what order, write down the tasks, do them, and then, one-by-one, cross them out.
Following a To-Do list has been my Christmas strategy for many years now and keeps me stress free in the lead up to the 'silly season'.
Of course, I'm using my printable vintage Christmas planner… have you download yours yet?
I'm well underway with my gift buying and Christmas prep this year, which is great because I've got some travel coming up before Christmas and I don't want to be rushing around the shops last minute.
I was actually looking at a gift idea online a few days ago and noticed a sale at the store I was perusing. An hour and one coffee later and I had knocked off half of my gift list in one go…. yippee!! Throw into the mix free shipping and my goods arriving this week and I'm pretty pumped with my efforts so far.
Do you shop online? I'm finding I do it far more often now and enjoy the ease of comparing prices on my screen, no crowds to deal with and I can shop online at any time of day.
One of the things I've changed this year is the sending of cards. I've noticed that each year the number of cards we receive become less and less. I appreciate that times are changing, so I've decided to just send cards to a few people who I know appreciate a card and letter and also to those crafty friends and family who enjoy a handmade card.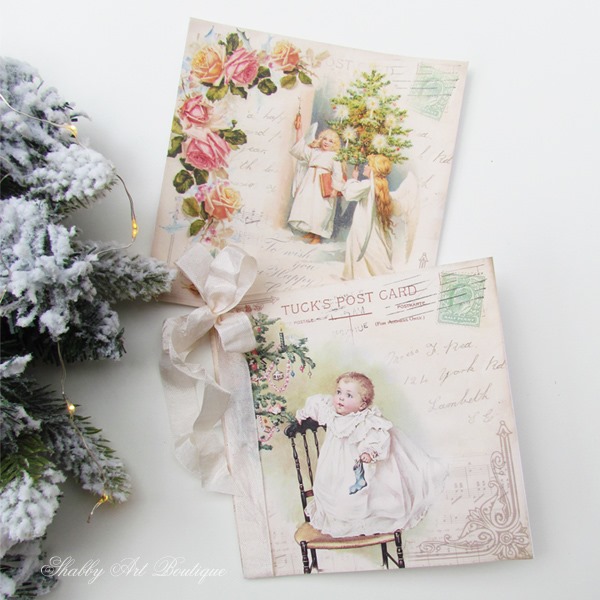 I made a start on these cards yesterday.
I'm keeping them pretty simple and without layers, so I can post them…. just adding a little dusting of glass glitter and a piece of silk ribbon!
These first two designs are available for you to download and use too. You can download the printable graphics HERE.
The other 2 cards are free printables for my Newsletter subscribers, so if you already receive my newsletter or you want to sign up now, they are available on my Subscribers download page.
How to make the cards:
Materials – affiliate links provided for the products I used.
Note: The graphics are sized for standard purchased square cards of 13.5 cm x 13.5 cm (5.5" x 5.5"). I used these Kaisercraft square cards. You should also be able to pick them up at most scrapbooking/papercraft stores.
Instructions
1. Download the printable to your own computer. Print on matt photo paper using the highest quality option on your printer.
2. Trim the graphic to fit the size of your card.
3. Apply a thin layer of white glue onto your card and another thin layer on the back of your graphic. We do this so that the graphic can be moved around into the right position before pressing into place. If you only apply glue on one surface and don't get your graphic lined up correctly, you won't be able to reposition it. Gently smooth printed photo paper out using a squeegee or old credit card, removing any bubbles or creases.
4. I've added a dusting of German Glass Glitter and a pretty silk ribbon, tied through the card to finish it off. If you are giving the card with a gift and not needing to post it, you could add dimensional embellishments to the front of the card.
[PIN for later]
Happy festive crafting
♥
Kerryanne
I'd love for you to connect with me at:
Follow on Bloglovin
or if you'd like my posts delivered directly to your Inbox
Subscribe to Shabby Art Boutique by Email
If you'd like a private pass to all things 'shabbilicious, sign up today for my fortnightly newsletter. It contains personal stories, sneak peeks, recommendations, discounts and freebies.