Creativity can be messy…
I know many creative people thrive in a messy environment and having a less structured work area, but I tend to function better with a tidy desk and everything in its correct place.
Ah yes, I'm a little bit of a perfectionist!
Sometimes my life gets so busy and one crafty project leads into another…
And before I know it, I'm confronted with a craft room that is way beyond messy.
I'm honest enough to admit that this week my creative space looked like someone had ransacked the place and overturned and thrown open every possible box.
I'd much rather spend my time crafting, but the day had come when I could do nothing else until some resemblance of order had been returned to my craft room.
So I attacked the job with all the precision of an army exercise and I had really made some headway with packing up and re-organizing… until I found a pile of bottle caps on my desk.
My hubby recently had a collection of these ready to go out to the recycle bin, when I saw them in a new light… mini frames, mixed media art, magnets… so many possibilities!
They were quickly rescued and added to the ever growing chaos on my crafting desk.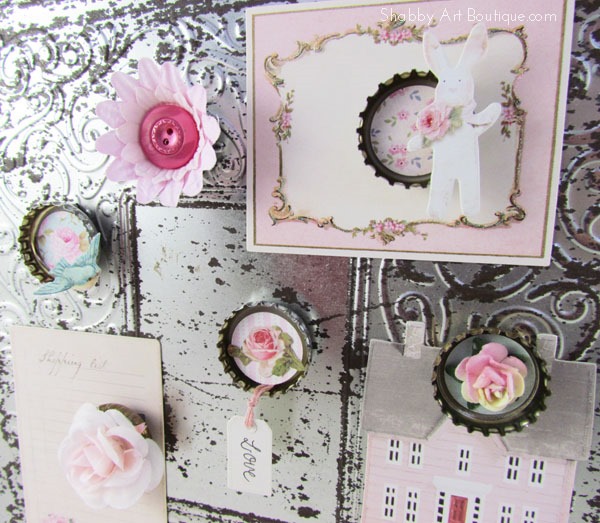 Today, when I should have been seeing out the mission to take control of the craft room…. I succumbed!
The desire to play create with the bottle caps was distracting.
I simply cleared a spot in the creative clutter on my desk and began creating.
In amongst the junk pile of offcuts, scraps and throw away bits and pieces, were the very items I needed to make Bottle Cap Magnets.
I cut circles of pretty paper with a 1 inch circle punch.
Next I glued on silk flowers, paper flowers, cute paper cut outs, bits of fabric, ribbon and lace… almost anything of a miniature nature can be used to add visual interest to the bottle cap frame.
A magnetic strip was cut to size and small magnetic squares were adhered to the back of the bottle caps.
For now, I've added them to the front of a vintage metal tin… where they can hold a special note, shopping list or simply just 'BE'.
This was a fun and relaxing crafty project… but alas, the craft room tidy up still awaits!
I hope you are inspired by my creative days,
Kerryanne
If you are on Instagram, I'd love to connect with you at http://instagram.com/shabbyartboutique
If you'd like a private pass to all things 'shabbilicious, sign up today for my fortnightly newsletter. It contains personal stories, sneak peeks, recommendations, discounts and freebies.
Sign up for my newsletter HERE
I'd love for you to connect with me at:
Follow on Bloglovin
or if you'd like my posts delivered directly to your Inbox