If you've been a long time follower, you know that I adore all things Tilda and have been a big fan of Tone Finnnager the designer since her very early days.
For quite a few years I also sold Tilda fabrics and paper crafts from my Boutique…. but like all things I guess, the Tilda brand made some big changes and they dropped their very popular paper craft division of their business a few years ago.
Their design style also changed… aimed at fabric design, the fabric patterns became bolder and brighter…. and a whole lot less shabby vintage. That was a big factor in deciding to stop selling the Tilda products at Shabby Art Boutique.
However…. I have some exciting news for 2020, which I'll share further on in my post!
But first, who would like some gorgeous free Tilda patterns just in time for Christmas?
How adorably cute are these two dolls; Pyjama Santa and Mrs Santa!
You may download the free pattern for the dolls HERE.
Or maybe you'd prefer a sweet little floral Angel Mouse to tuck into your Christmas decor.
Download the Angel Mouse pattern HERE.
This luxury, oversized stocking filled with gifts would be every child's
dream on Christmas morning – plenty of room for all sorts of delightful presents!
Download the Scrap Angels Oversized Stocking pattern HERE.
The sweetest angels with rosy cheeks and plump hair buns adorn this beautiful quilt.
The blocks are framed by simple sashing. Finished Size – 53in x 74in (134.6cm x 188cm).
Download the Scrap Angels Quilt pattern HERE.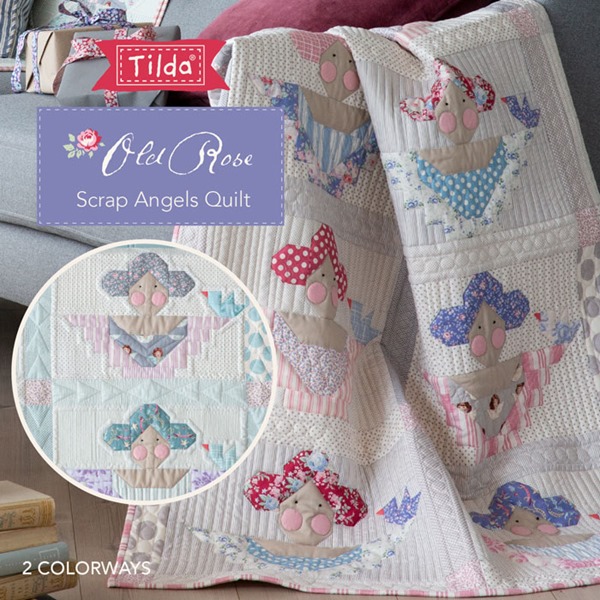 Just two patchwork blocks are used for this lovely quilt, both with the same layout but with a different balance of fabrics. There are two other versions of this quilt – a lilac/blue and a red/grey.
Finished Size – 58¼in x 73in (148cm x 185.4cm)
Download the Soft Star Quilt pattern HERE.
This charming quilt is based on the poignant Hans Christian Andersen story of a steadfast one-legged tin soldier, who falls in love with a pretty ballerina. There are just two blocks in the quilt but the various parts of each block require many pieces to build up the various motifs that play a part in the story. Close attention to the diagrams and careful measuring will help you make a quilt that is sure to be treasured for years. Finished Size – 59in x 78in (150cm x 198cm).
Download the Brave Tin Soldier Quilt pattern HERE.
So many gorgeous Tilda designs to choose from…. I think I'll start with the Pyjama Santa doll first!
For more information on Tilda designs, visit their website HERE.
So, on to my exciting news…. I plan to be stocking Tilda fabrics and accessories again from 2020.
There's another shipment of the Old Rose collection due to arrive in a matter of weeks and I'll be grabbing what I can from that collection first.
Happy Christmas crafting my friends,
Hugs
♥
Kerryanne
I'd love for you to connect with me at:
Get instant access to the free printables in our Member's Only
library by joining my email newsletter subscriber's list.
I send out two newsletters a month with updates on all things
'shabbilicious' at Shabby Art Boutique.
Follow on Bloglovin or join our Facebook group Simply Shabbilicious.