Hi creative friends,
Our next project for Simply Christmas is one that I get asked for every year… it's the mini calendars.
And I understand why they are so popular… I know that I often want a little something just to say 'thanks and Merry Christmas' to acquaintances without feeling like I'm giving a gift… it truly is just a useful token gift.
The two printable mini calendars each measure 9 cm wide x 12 cm high (3 1/2" x 4 3/4"), so they are perfect to simply pop into a card or add to a small gift box. They are even small enough to fit into your handbag or put a magnet on the back and hang on the fridge or your desktop.
Best of all, this is a quick and easy 'print and make' project that you can make in less than 30 minutes…. I think these two took me about 20 minutes and I was taking photos as well.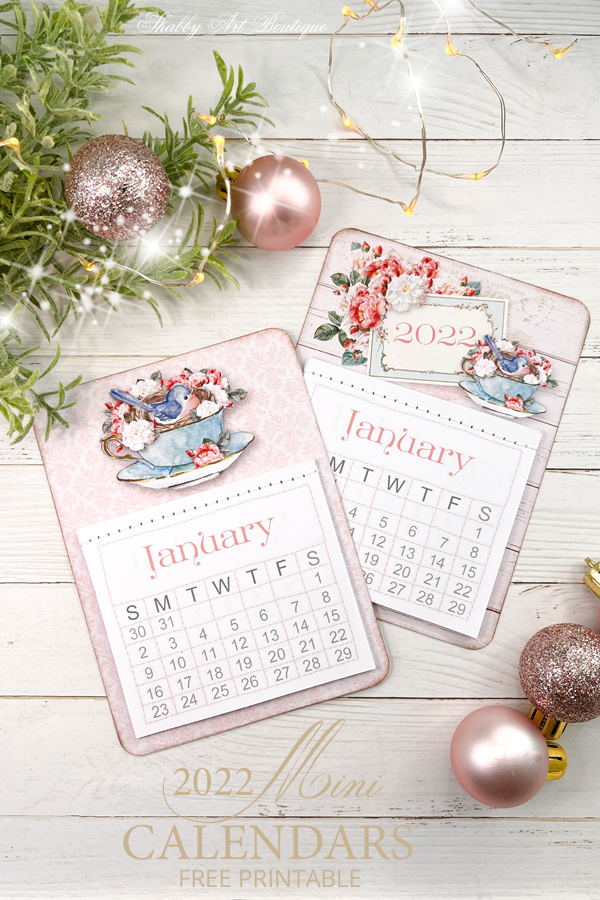 Making your 2022 Mini Calendar
1. Download the printable PDF, which is available in the newsletter subscribers free Member's Library.
Not yet a member? That's okay…. you can subscribe to my newsletter here and get instant access to the free printables.
2. Print page 1 on cardstock – I used 250 gram matte photo paper.
Print pages 2 and 3 (calendar) on normal copy paper.
I decided to use my corner punch on the corners of the backing cards and also added a very light distressing of ink around the edge, but this is totally optional.
3. I've outlined the calendar months in grey, so you can cut the squares out just inside the grey line. Compile your calendar months in order and hold together firmly; I used a couple of clips to hold the calendar together temporarily.
4. Using your sewing machine, stitch the pages together across the top of the calendar. Secure cotton ends at back of calendar.
5. Attach your calendar to the backing board using either a hot glue gun or clear glue. The stitching across the top of the calendar will allow you to tear off each month as required. Glue a magnet in place on the back of your calendar (optional).
That's it… so simple!
I hope you like them ♥
PIN for later
Happy crafting!
Hugs
♥
Kerryanne
Let's be friends on….
Get instant access to the free printables in my Newsletter Printables
Library by joining my email newsletter subscriber's list.
I send out a weekly newsletters with updates on all things
'shabbilicious' at Shabby Art Boutique.
I invite you to join our fabulous and friendly
Facebook group – Simply Shabbilicious
where you'll enjoy our friendly banter and inspirational creativity