Do you ever save beautiful fabrics?
Perhaps you are too scared to cut into them or even use them for fear of not being able to replace them later on.
If so, you are not alone. I've been hanging on to this pretty stack for quite some time. These pretty pink floral fabrics sit on a shelf above my worktable, where I can appreciate them while I'm creating…. and although they are from different collections, they mix together so well. Many of them are no longer available, so that makes them even more special. I've purchased them on Ebay and Etsy and have been waiting to be brave enough to cut into the 'stash'.
That time is now!!
I finally decided that rather than sitting on a shelf gathering dust, I should create a few projects with my pretty pink florals, so I can truly enjoy them.
So the first project was going to be a sampler of sorts.
You might remember a few years back I made the Autumn faux patchwork frame. It hangs on my studio wall and often pops up in photo shoots and Autumn vignettes. I love how it showcases my Tilda fabrics, so I knew that a new version of this project using my pink florals would be a great way to make a sampler of the fabrics.
I used the tutorial from my Faux Patchwork Frame post to make another one this week.
What can be quicker or easier than making faux patchwork…. it looks so pretty, just like real patchwork but made in a fraction of the time.
I added in a stamped word…. I chose 'happiness' this time.
It is such a positive word and perhaps an affirmation that will remind me to keep the positive vibe alive in my craft room.
As I reinvented my fall sampler, I was able to re-use the shabby painted thrift store frame for my new pink floral faux patchwork.
It's a standard 8" x 10" frame and the perfect size to tuck into vignettes or sit on a shelf.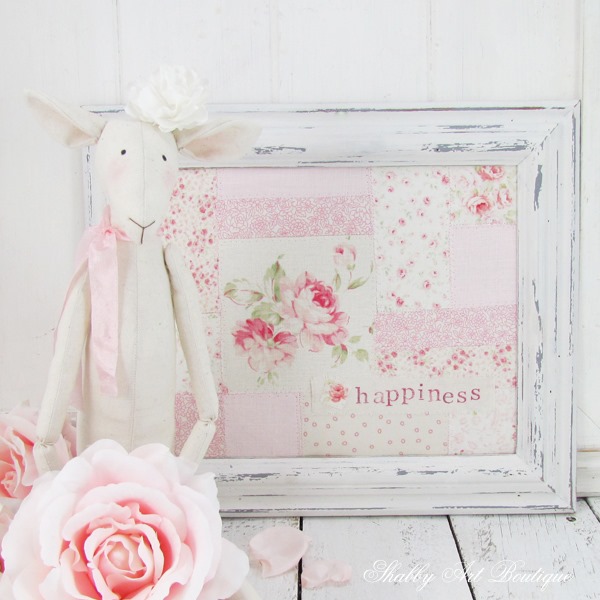 To mount the faux patchwork, I used a piece of scrapbooking chipboard that I cut to 8" x 10" to fit into the frame. I wrapped the fabric around the board and secured the extra fabric on the back of the board with tape. It's a temporary measure. Ordinarily, I would use needle and thread to sew a fabric panel to the board, stretching and securing as I move around the board, but that's quite permanent. I liked the idea that I could easily remove this sampler if I want to use it for a different purpose.
So, there you have it…. my first project using some of my pretty pink floral fabrics.
I'm already creating more projects using snippets of my prized fabric. You may even have noticed that my spring bunny is sporting some very pretty floral ear linings…. another smallish project using my favourite rose floral fabric.
You can read about how I made the lambs and bunny HERE.
PIN for later!
What projects would you make if you had a stash of
your very favourite rosy pink floral fabrics?
Happy crafting,
Hugs
♥
Kerryanne
I'd love for you to connect with me at:
Follow on Bloglovin
or if you'd like my posts delivered directly to your Inbox
Subscribe to Shabby Art Boutique by Email
If you'd like a private pass to all things 'shabbilicious, sign up today for my fortnightly newsletter.
It contains personal stories, sneak peeks, recommendations, discounts and freebies.