Hi creative friends,
Grab a cup of something warm, get cosy and settle in for this week's gorgeous tutorials and inspiration from our wonderful Design Team!
Charmaine – Two Shabby Shoes
Charmaine from Two Shabby Shoes designed the sweetest little heart journal using the Victorian Romance digital kit and a set of wood hearts from Dollar Tree.
Find out how she made it in this flip through of her Heart Journal on YouTube.
Isn't it amazing how a few gorgeous laces and embellishments can make something so pretty.
What a darling gift for Galantine's day or present it as a gorgeous keepsake anytime of the year!
PIN for later
Has Charmaine inspired you to make one of these pretty heart journals for yourself?
You can connect with Charmaine on her new socials for Two Shabby Shoes on Instagram and YouTube.
Thank you Charmaine ♥
Victorian Romance Digital Kit
Click here –> to view the A4 Victorian Romance listing on Etsy.
Click here –> to view the Letter (USA) Victorian Romance listing on Etsy.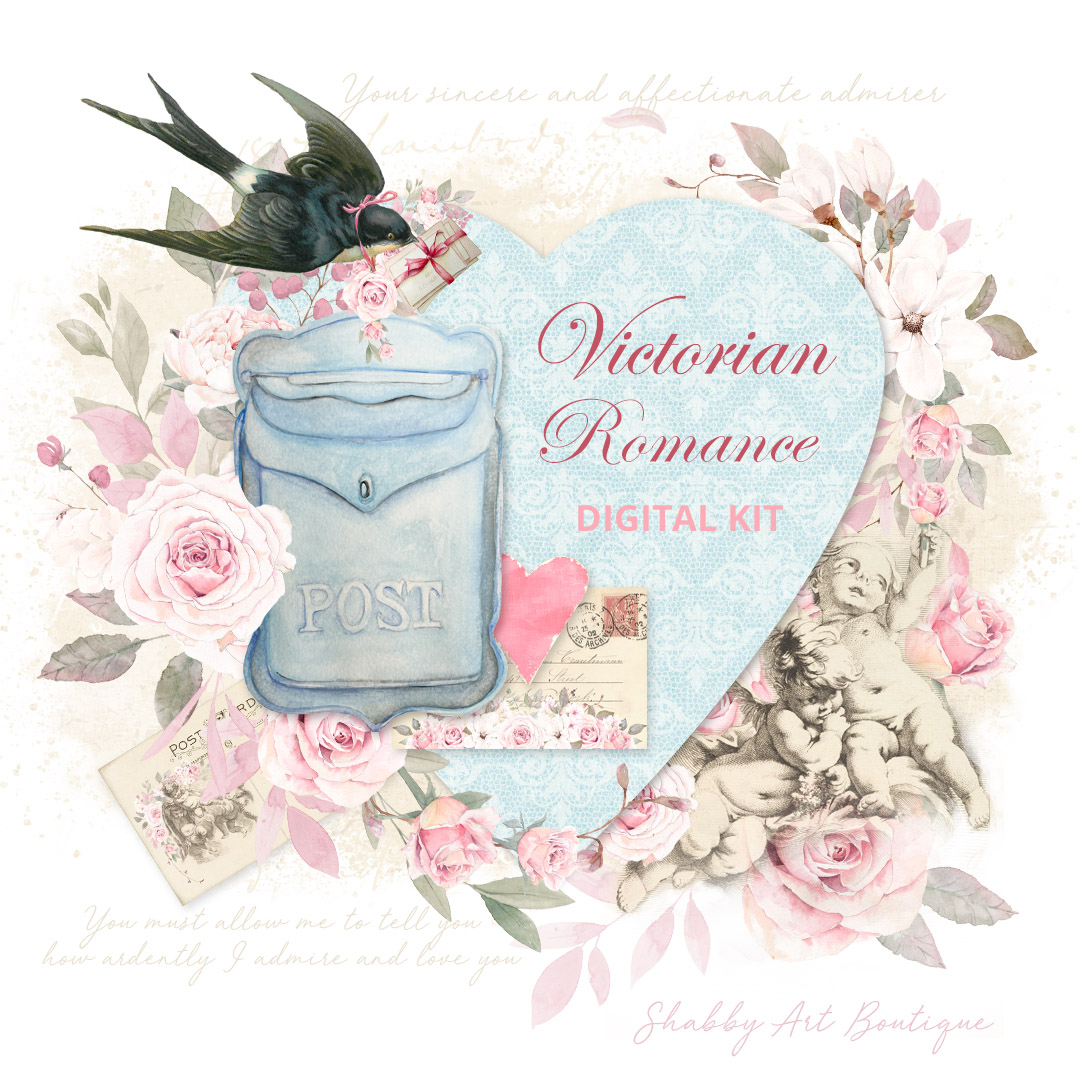 Sandy – Septeria 18
Everyone's been talking about Sandy's gorgeous gate fold folder that she created with the Vintage Love kit.
She shared it with us a coupe of weeks ago and is back this week with a 'Craft with Me' tutorial.
Tutorial ~ Vintage Love Gate Fold Folder with Pockets and Flip Pages.
Click here or the image below to watch Sandy take you step-by-step through the process of making her beautiful folder.
Click image below to watch tutorial on YouTube.
I love all of the flips, pockets, tucks and tabs in this layered beauty… I think you will too!
See Sandy's flip through of the Gate Fold Folder video here.
And her pretty Vintage Love embellishments video here.
We all love Sandy's projects, so be sure to subscribe to her Septeria18 YouTube Channel so you don't miss any of her upcoming tutorials and follow Septeria18 on Instagram.
Thanks for inspiring us with this fabulous folder Sandy ♥
Anna ~ Serenity Creations
Our guest designer, Anna from Serenity Creations has definitely spoilt us this past month with numerous stunning projects.
Anna is back this week with two more; the prettiest lacy Valentine banners and breath-taking chippie bags.
The chippie bags have stolen my heart and I simply must make some of these.
Click the image below (or here) to watch Anna's flip through of her latest Vintage Love projects.
So many great ideas for quick, easy doable projects.
I hope you've found Anna's projects inspiring too.
These projects are so sweet Anna… thank you ♥
You can connect with Anna on her Serenity Creations YouTube channel and at Serenity Creations on Instagram.
The Vintage Love Kit
To find out what is included in this kit –> click HERE.
Click here –> to view the A4 Vintage Love listing on Etsy.
Click here –> to view the Letter (USA) Vintage Love listing on Etsy.
You can also pick up the free printable mini Vintage Love kit HERE.
It's a perfect add-on for the main kit.
Happy crafting,
♥
Kerryanne
Let's be friends on….
Get instant access to the free printables in my Newsletter Printables
Library by joining my email newsletter subscriber's list.
I send out a weekly newsletters with updates on all things
'shabbilicious' at Shabby Art Boutique.