For a long time now I've stored all my laces, ribbons and haberdashery trims on specially made boards, so they could be easily accessed, kept untangled and look shabbiliciously beautiful.
I released 3 designs for my own lace and ribbon boards back in 2011 and it was definitely one of my most popular E-pattern designs.
Today I'm sharing a new vintage design and lace board template with you, so you can make some for your own creative space.
They are very easy to make.
My boards are constructed using 3 mm MDF, which provides a light but stable and non-bending substrate. I've cut them out with a scroll saw, but if you don't have access to a scroll saw or jigsaw, this design can also be made out of balsa wood or thick cardboard, which is available from craft supplies and cut to shape with a craft knife.
Materials
3 mm MDF for board shapes or alternative substrate (balsa wood or cardboard),
Scroll saw or jigsaw for wood; or craft knife if using balsa wood or cardboard,
Mod Podge and foam brush,
Scissors and sanding tool – nail file, sandpaper or rotary tool,
Printed graphic and template file – available HERE,
Flat brush 1/2" and DecoArt Americana paint, Light Mocha.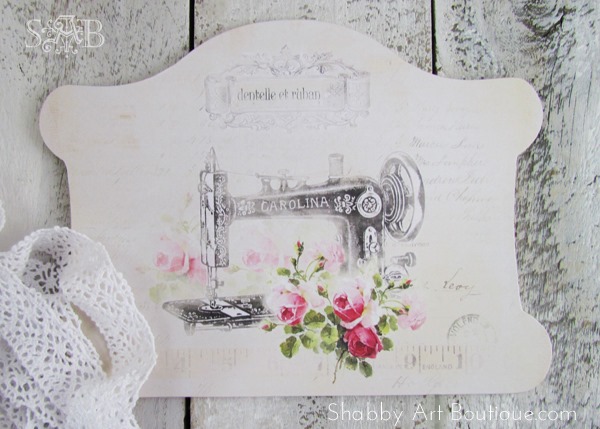 [front view]
Preparations
Transfer board pattern template to MDF and cut out shapes with a scroll saw. Alternatively, they could be cut from thick card or scrapbooking chipboard.
Sand edges of wood smooth with fine sandpaper. Paint edges of boards with 2 smooth even coats of Light Mocha paint, allowing drying time between coats.
Print vintage design on matt photo paper, using photo settings on printer. Cut excess white paper away from printed designs.
[back view]
Instructions
Covering your boards: When using Mod Podge, always paint a light coat of Mod Podge on both surfaces to be adhered; the face of your board and the back of your printed design. This allows for some movement and realignment of your paper and board.
Line up your printed paper with the board…. there will be a small amount of excess around the edge. Apply Mod Podge to both surfaces and position paper on your board. Use a squeegee or an old credit card (or any kind of plastic card) to smooth the surface, working from the centre outwards.
Wipe off any excess Mod Podge that oozes over the edge and leave to dry.
Trim the paper close to the edge of board. Cut slits in paper from the outer edge back to the board to make sanding easier. I use an everyday coarse nail file to remove excess paper. You can use sandpaper too (which is a little more tedious) or an electric rotary tool if you have one. I use a rotary tool if making a lot, but still prefer to finish off the edges and add a little distressing with the nail file.
Optional: It is up to you whether you seal your boards with Mod Podge to protect them.
All that's left to do now is add your ribbons, laces and pretty trims to your new boards.
Happy crafting
♥
Kerryanne
I'd love for you to connect with me at:
Follow on Bloglovin
or if you'd like my posts delivered directly to your Inbox
Subscribe to Shabby Art Boutique by Email
If you'd like a private pass to all things 'shabbilicious, sign up today for my fortnightly newsletter. It contains personal stories, sneak peeks, recommendations, discounts and freebies.