Hi friends… let's sit for a moment and talk today about shopping?
I shop every Saturday at my local farmers market. I love being able to buy my fresh produce, free range eggs, nuts and bakery products direct from the growers and makers.
Not only is the produce fresher, but I think it tastes better too…. don't you agree? Even better than that, I love knowing that buying local fresh produce supports our local farmers and small businesses too!
This post may contain affiliate links, which means I may receive a small commission, at no cost to you, if you make a purchase through a link on this blog. I would never recommend a product I don't use or love myself!
Today I'm sharing with you a DIY tutorial for making my reusable farmers market produce bags… and they don't have to be boring either!!
So… complete side note, in the state in which I live in Australia, single use plastic bags were banned from July 1st. This didn't really affect us as a family, as we had moved to non plastic re-usable shopping bags many years ago, but it has created quite an outrage for some consumers.
I'm happy to use reusable shopping bags, string bags and baskets for shopping. They are much easier to carry than thin flimsy plastic bags and much better for our environment. I wish we had paper bags like in the US.
Once we had replaced shopping bags, the next step for us was to replace plastic produce bags that were supplied at supermarkets, bakeries and even farmers markets. It was simple to do and I bet you already know that I made my own…. yeah, you guys know me well.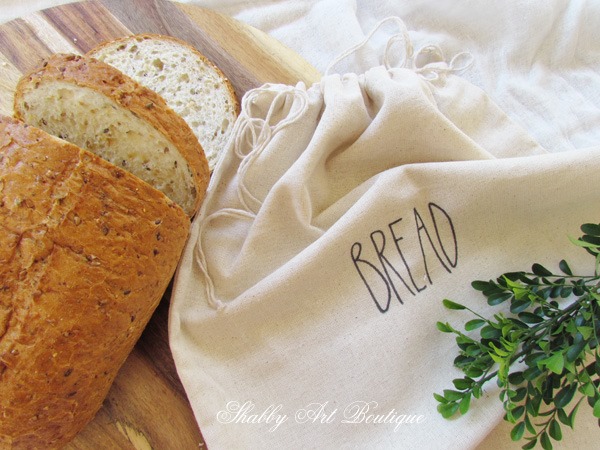 My bags are made from lightweight calico, muslin and mesh. The fabrics are so light that it doesn't mess too much when weighing produce and they wash easily too. I have them in all different sizes and have even made some of them look pretty too!!
Like many people, I'm quite enamoured with Rae Dunn's clay designs, but of course, they are not available in Australia yet.
That doesn't stop me being inspired by Rae Dunn's simplicity and typography style though!
I recently discovered a fabulous Rae Dunn inspired font on Etsy and I knew right then that I had to get it and I also had the perfect DIY project to infuse with this lovely typography. Even better… it was on sale at half price and just US$5.
How to make Rae Dunn inspired Produce Bags
Materials
Light weight fabrics eg. muslin, calico, lightweight cottons, mesh,
Cord or jute string
Black fine point Sharpie permanent marker
Light box (not essential, but makes the project easier)
Normal sewing supplies.
Instructions
Decide what size you'd like your produce bags to be. This will be different for everyone, depending on what you usually buy. For my own use, I created a few smaller bags for herbs and garlic, a larger supply of medium sized bags (approx. 45 cm x 30 cm) and a couple of bigger bags for large vegetables, loaves of bread and a long baguette bag.
All of my bags are a basic drawstring bag with a double cord.
You could easily make all of your bags in one afternoon, as I did. You may already know how to make these easy draw string bags (and there are various methods) or if you are new to sewing, you'll find a myriad of easy tutorials online.
I chose to make my bags out of one panel, folded at the base and a seam on each side.
Before constructing the bag, I wrote my Rae Dunn inspired words onto my fabric panel using a black fine point permanent Sharpie marker. To do this, I used the Rae Dunn font to create the words I wanted on a MS Word document and printed it. Then using a light box, I positioned my fabric over the printed page in a central position and hand lettered the words. It's much easier with a light box, but you could also trace the words and transfer the lettering onto the fabric using tracing and graphite papers.
Next I pressed the top edge over about 1 inch and made a casing by sewing the lower edge of the turnover, leaving both sides open on the casing.
Thread the cords through the casing from opposite sides and then knot the ends of each cord. By pulling the cords, you'll gather the top of the bag in.
I'm very happy with my produce bags. The Sharpie marker ink is permanent, so it is okay to throw your bags into the wash.
Using fabric bags instead of plastic is only one small step towards helping save the environment, but it's an easy change to make and one that makes me happy. I hope you are inspired too!!
Happy crafting!
Hugs
♥
Kerryanne
I'd love for you to connect with me at:
Follow on Bloglovin
or if you'd like my posts delivered directly to your Inbox
Subscribe to Shabby Art Boutique by Email
If you'd like a private pass to all things 'shabbilicious, sign up today for my fortnightly newsletter.
It contains personal stories, sneak peeks, recommendations, discounts and freebies.