Following my craft room clean up a few weeks ago, I vowed to try and use up some of the many boxes of supplies I have, before I buy more… well, that's the plan.
I don't suppose this mini canvas and easel will put much of a dent in it, but it is a start!
You might remember my beautiful stack of rose floral fabrics I shared from this post. The sweet roses from one of those fabrics is just so pretty, but I only have a small piece of it left and sadly, it is no longer sold.
So, I created a pretty hand embroidered canvas using the roses form the fabric and the mini easel and canvas.
[Affiliate links have been provided in this post]
I totally flew by the seat of my pants on this project, which is not my usual style, but I thoroughly enjoyed creating it. I'm not sure what you'd even call this… it's kind of a miss-mash of different techniques.
Hand Embroidered Mini Canvas
Materials
– mini easel and canvas
– Backing fabric. I used pale pink linen.
– Fabric with rose design and a small piece of white fabric
– Applique paper like Heat 'n' Bond or Visofix
– Alphabet Stamps and cherry ink pad
– Assorted embroidery cottons and sewing supplies (needles, scissors etc).
Instructions
1. Iron applique paper onto back of floral fabric (no steam). Cut out floral motifs. I also ripped a piece of white fabric and stamped a word on using my alphabet stamps – this could be any word.
2. Cut a piece of fabric for the backing on the mini easel. I used a soft pink linen and allowed an extra 2 inches all round to allow for mounting on the canvas. I placed the fabric over the frame and using just my fingers, I creased the fabric around the edge of the frame, so I could use this as a sewing guide.
Next, I removed the backing paper on the applique paper and ironed the roses and the stamped word onto my backing fabric.
3. I had no plan with this design… I simply tacked around the roses with an informal white cotton stitch, then I used embroidery thread in two shades of green to add stems and leaves.
4. When I was finished I added just a couple of pink cotton French knots as rose buds in a few empty spots.
To finish, I folded my fabric around the canvas, tucking in the excess fabric and I used a staple gun to secure. I cut a small piece of scrapbooking paper to cover the back and I glued in place. I think this step is important if you are giving as a gift, as it really finished it off quite nicely.
I painted the easel white and distressed lightly with sandpaper for a shabby look.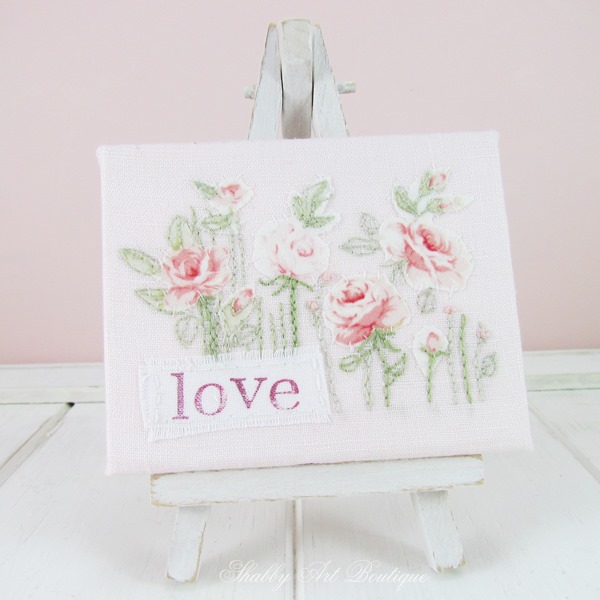 It's such a small piece of art… but was so enjoyable to make.
I got comfy in my craft room, popped on Netflix and watched Our Souls at Night starring Robert Redford and Jane Fonda… which by the way was lovely and worth watching.
So with my coffee at hand, a good movie and my craft supplies, I started and finished this mini embroidered canvas before the movie ended.
[Pin for later]
You might also enjoy making my Faux Patchwork Sampler or Shabby Pincushion projects.
Happy crafting,
Hugs
♥
Kerryanne
I'd love for you to connect with me at:
Follow on Bloglovin
or if you'd like my posts delivered directly to your Inbox
Subscribe to Shabby Art Boutique by Email
If you'd like a private pass to all things 'shabbilicious, sign up today for my fortnightly newsletter.
It contains personal stories, sneak peeks, recommendations, discounts and freebies.