I've got a question for you…
Do you put up the same Christmas decorations each year or do you change it around from year to year?
I tend to be a 'theme' decorator….
That's not to say that I go out and buy new Christmas decorations each year. I've been adding to my stash for 30 years, so I definitely shop my own store room.
But I do like to follow a theme… and I think that also comes from having worked as a Visual Merchandiser and Interior Designer for many years. Both jobs work better with themes.
Also, working with a theme in mind lets you tie all your individual pieces together for a more cohesive look throughout your home.
Let me show you how easy it can be….
Two years ago I held a small dinner party in my studio space and transformed it into a wintery night woodland theme with little expense and time.
If you look closely at the photos, I think it exudes a cool snowy feel, yet it was a hot and very humid summer night outside.
Here's how I put it together….
First I emptied my shelves into boxes and stored my things in the shed for a few days. That gave me a blank white canvas to work with.
I collected pine cones from a friends yard and sprayed them with Santa Snow.
On the day, I picked fresh greens from the garden to add around the room.
The table runner was a piece of pallet wood that I added a couple of off cut bits of wood to at either end to raise it up off the table an inch or two.
I also used various chunks of scrap wood as risers for my vignettes and in a few places I used whole logs.
Next came the owls…. a woodland theme needs animals!
And I wanted white owls.
So how did I create so many with little effort?
Here's my secret….
I painted just a couple of owls on cardboard and then scanned the images. I printed them out on matt photo paper and adhered the photo paper to a sheet of 16mm MDF. Next I used my scroll saw to cut them out. On the ones that would be on the wall and only viewed from one side, I simply painted the sides and back of the cut-outs with white paint. The remaining owls that were used on the table and viewed from all angles had a reversed owl image attached to the back. The sides of the wood cut-out were painted with white paint.
Last year after lots of requests, I created a couple of owl painting patterns. The E-patterns have full sized pattern drawings and give step-by-step photo instructions for painting. I used an aqua blue for my owl eyes, because I had an aqua theme last year, but you can paint their eyes any colour.
The 2 E-patterns are in my web Boutique.
So on with my themed room, I used basic white table cloths and white china on the long table, so as not to take away from the snowy white theme.
Next came lots of candles… both pillars and tea lights. I even had candles hanging in jars from the roof. I used all my saved up jam jars and filled them with Epsom Salts (looks like snow) and tea light candles.
Fairy lights were strung overhead which appeared like stars as the room grew darker.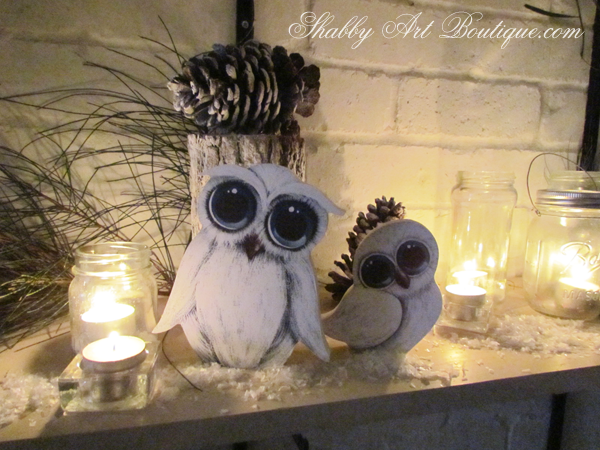 So here's what I used for my snowy night woodland theme:
Collected pine cones, scrap wood and logs, fresh greenery and empty jars – all free.

1 x can of Santa Snow

1 x packet of Santa Snow Flakes – $2 from variety shop

Epsom Salts for candle jars

A large assortment of white candles – all purchased at the variety shop

Several strands of white fairy lights – from my own stock.

Handmade owls
Once I set up the room, I lightly sprayed all greens and wood logs with Santa Snow. Then I sprinkled Epsom Salts and the Santa Snow Flakes around all the owls and vignettes.
The room packed a lot of punch in the awe factor as guests entered and the ambiance throughout the night was so soothing and magical. Just the way Christmas should be.
So you may not want a wintery woodland theme, but this is the way I would handle any theme:
Decide on a theme and budget.

See what you already have in your own supplies that can be used.

Map out where you want to place your vignettes and make a list of what you already have and what you will need to implement this theme. This way you won't waste money on unnecessary purchases.

Put it all together and then see if there are any blank spots or areas that need to be reworked… I often live with things for a day or two before moving things around. We don't always get the final look to be exactly like that which we imagined.
Tip: If using a colour theme, step back and look with fresh eyes. Ask yourself… Is there too much of one colour in any area? Could you add small items in a particular colour to make the theme flow through your house? Is there something that is overwhelming in a room or a vignette that just doesn't work?
So I'll ask you again….
Do you put up the same Christmas decorations each year or do you change it around from year to year?
I'd love to hear about your colour schemes, themes or different things you've tried.
Happy Christmas crafting,
Kerryanne
Connect with me at…