Hi creative friends,
With just 32 days until sweet old St Nick pays us a visit, the countdown is definitely on!!
So grab yourself some hot cocoa… and settle in because I have some great Christmas crafting inspiration from the Design Team for you today.
Sandy ~ Septeria18
First up, Sandy from Septeria18 has used the lovely snowy themed Winter Wonderland kit to create a Christmas loaded pocket… and it is an absolutely gorgeous project and one you'll be able to make too.
Along with the pocket, Sandy has also created embellishments and tags that will be perfect for 'happy mail' during the festive season.
Click the image below to visit Sandy's YouTube channel, Septeria18 to see a detailed flip through of all this gorgeousness.
I'm sure you'll want to make one of these too… and Sandy has also made a 'craft with me' video tutorial, so you can join her in making this project step-by-step.
Click below for the Tutorial for making the Christmas loaded pocket .
PIN for later
We all love Sandy's projects, so be sure to subscribe to her YouTube Channel, so you don't miss any of her fabulous tutorials.
You can also follow Septeria 18 on Instagram.
Thanks for inspiring us with this great Christmas project Sandy♥
Winter Wonderland Collection
If you'd like to see more of the Winter Wonderland Collection, the following items are in my Etsy store:
Nicola ~ My Shabby Craft Corner
This week Nicola is working with the new Ginger Kisses digital kit.
She shared a flip through of the kit on her YouTube channel, My Shabby Craft Corner earlier in the week.
And she has just finished this very sweet Ginger Kisses Christmas wreath.
Isn't that pretty ♥
It will go perfectly with Nicola's shabby Christmas tree she already has up in her beautiful shabby craft corner.
You can see it in her Facebook group, Shabby Journals Crafts & More.
What a sweet Christmas project Nicola ♥
You can connect with Nicola on her 'My Shabby Craft Corner' accounts: Instagram and YouTube
Be sure to subscribe to her YouTube channel, so you can keep up with all of her fun tutorials.
Thanks Nicola ♥
Ginger Kisses Collection
The Ginger Kisses digital kit is so sweet and perfect for adding a touch of joy to your Christmas crafting.
Click here to see what is in the Ginger Kisses kit.
Click here –> for the Ginger Kisses letter (USA) paper size kit.
Click here –> for the Ginger Kisses A4 paper size kit.
Coupon Codes
Please enjoy these new storewide coupon codes for sales of US$10, US$15 and US$20.
Don't forget to enter the discount codes at checkout!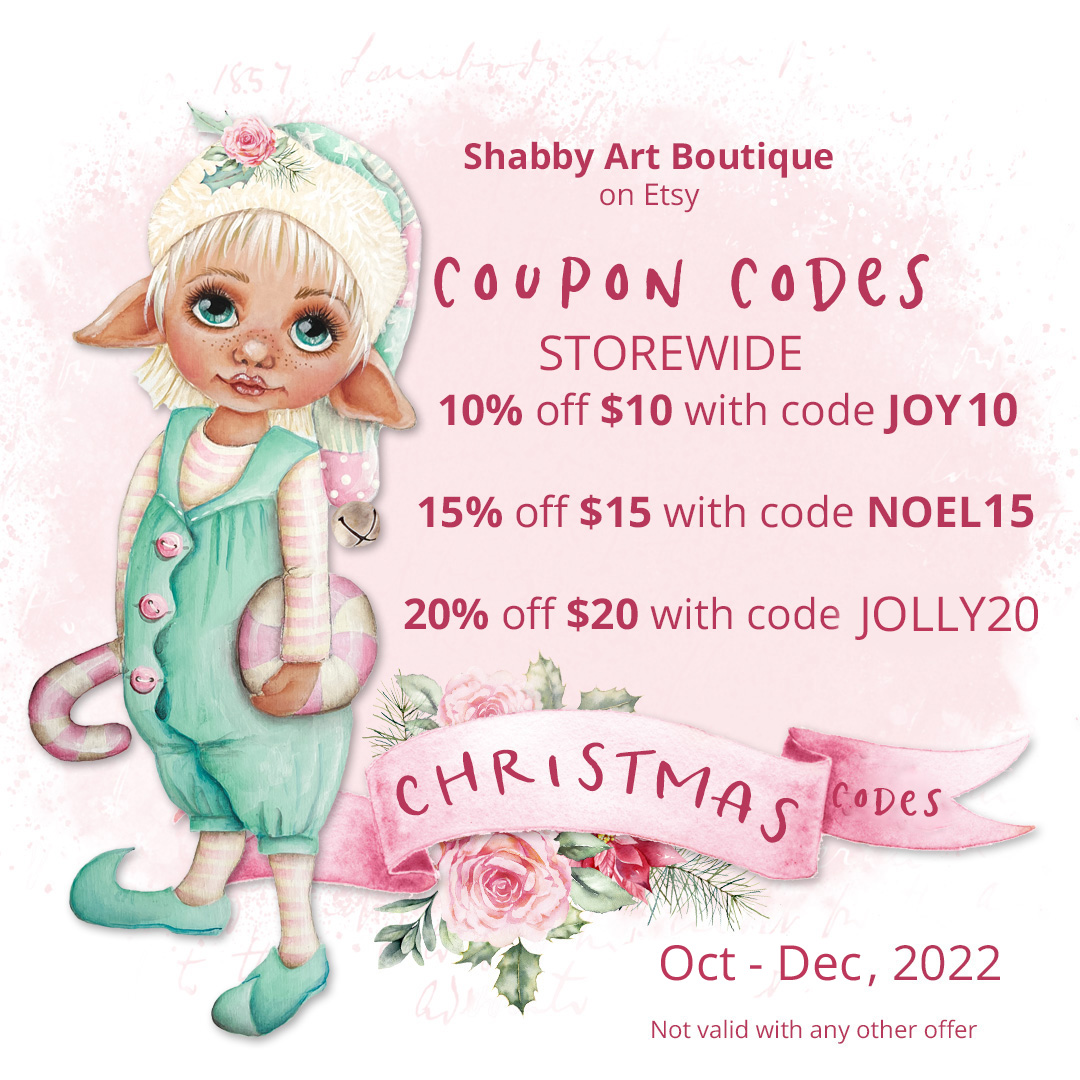 I'd love to see what you create with this kit. Please feel welcome to join our Facebook group, Simply Shabbilicious, where we share our creative makes.
Happy crafting,
♥
Kerryanne
Let's be friends on….
Get instant access to the free printables in my Newsletter Printables
Library by joining my email newsletter subscriber's list.
I send out a weekly newsletters with updates on all things
'shabbilicious' at Shabby Art Boutique.
I invite you to join our fabulous and friendly
Facebook group – Simply Shabbilicious
where you'll enjoy our friendly banter and inspirational creativity.