Hi creative friends,
At the heart of every beautiful piece of art is a story waiting to be told.
As an artist, I've always been captivated by the power of stories.
It's not just about the visuals or the aesthetics; it's about the emotions, the narratives, and the characters that come to life within each piece.
That's why my design process always begins with the story, and I find immense joy in developing the characters that populate my whimsical worlds.
Christmas at Meadow View Lane
Today, I'm excited to share my latest creation with you, 'Christmas at Meadow View Lane'.
This digital kit is a culmination of my love for storytelling through art, and it's available for all to enjoy on Etsy.
Meadow View Lane first came to life in May, 2023 when I introduced it to the Craft Room membership.
The sweet little mice and their charming world stole my heart back then, and it's even more special to revisit this beloved community during my favorite season, Christmas.
Picture the tiniest, coziest cottages nestled in the snow, each with its unique character and charm.
These cottages are where our mouse friends live, snug and warm… They drive the cutest little cars, creating a delightful spectacle as they travel around Meadow View Lane.
Their journeys are filled with joy and holiday spirit as they travel in search of their fresh Christmas trees.
When the snow falls, the mice get to work building snowmen that are as cute as they are… bringing the magic of winter to life and adding a touch of whimsy to the season.
The Heart of 'Christmas at Meadow View Lane'
This kit is more than just a collection of digital elements; it's a ticket to a world filled with whimsy, wonder, and a hint of nostalgia.
Christmas at Meadow View Lane features 21 coordinating papers, each awash in soft winter tones of blues and greens, punctuated by pops of blush pink. These papers transport you to the heartwarming street of Meadow View Lane, where the magic of the season is alive in every corner.
But that's not all…. with 95 individual graphic elements at your disposal, this kit opens the door to crafting your very own stories and creating whimsical scenes of your own.
Whether you want to create greeting cards, journals, scrapbooks, mixed media art, or something entirely unique, the possibilities are endless.
The kit also includes essential items for journal making, like pockets, tabs and files in varying sizes.
Instant Download for Your Creative Journey
To make your creative journey as convenient as possible, Christmas at Meadow View Lane is available as an instant download on Etsy.
I've provided this digital kit in two separate listings for A4 paper size and letter paper size (USA & Canada).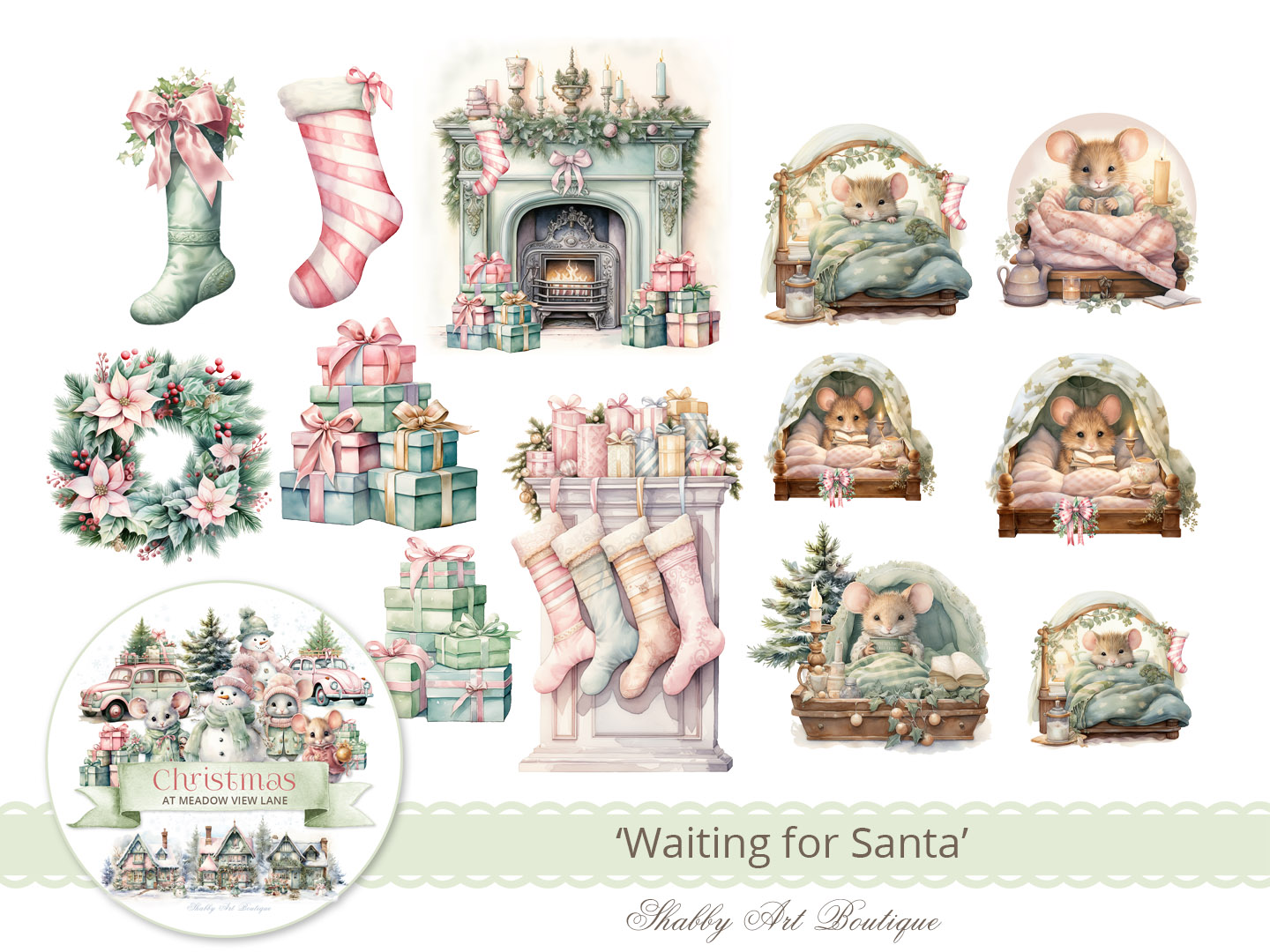 The kit includes two ready-to-print PDF files:
The first file is a comprehensive 37-page paper file that contains all the different paper sizes, making it easy for you to select the right one for your project.
The second PDF consists of 34 pages of fussy-cut elements, ensuring you have a wide array of options to embellish your creations.
And for those who prefer to mix and match elements with complete freedom, Christmas at Meadow View Lane also includes three zip files of individual elements.
This way, you can let your imagination run wild and piece together your own unique Christmas designs.
This digital kit is an instant download for you to print at home, giving you the creative freedom to embark on your Meadow View Lane adventure at any time.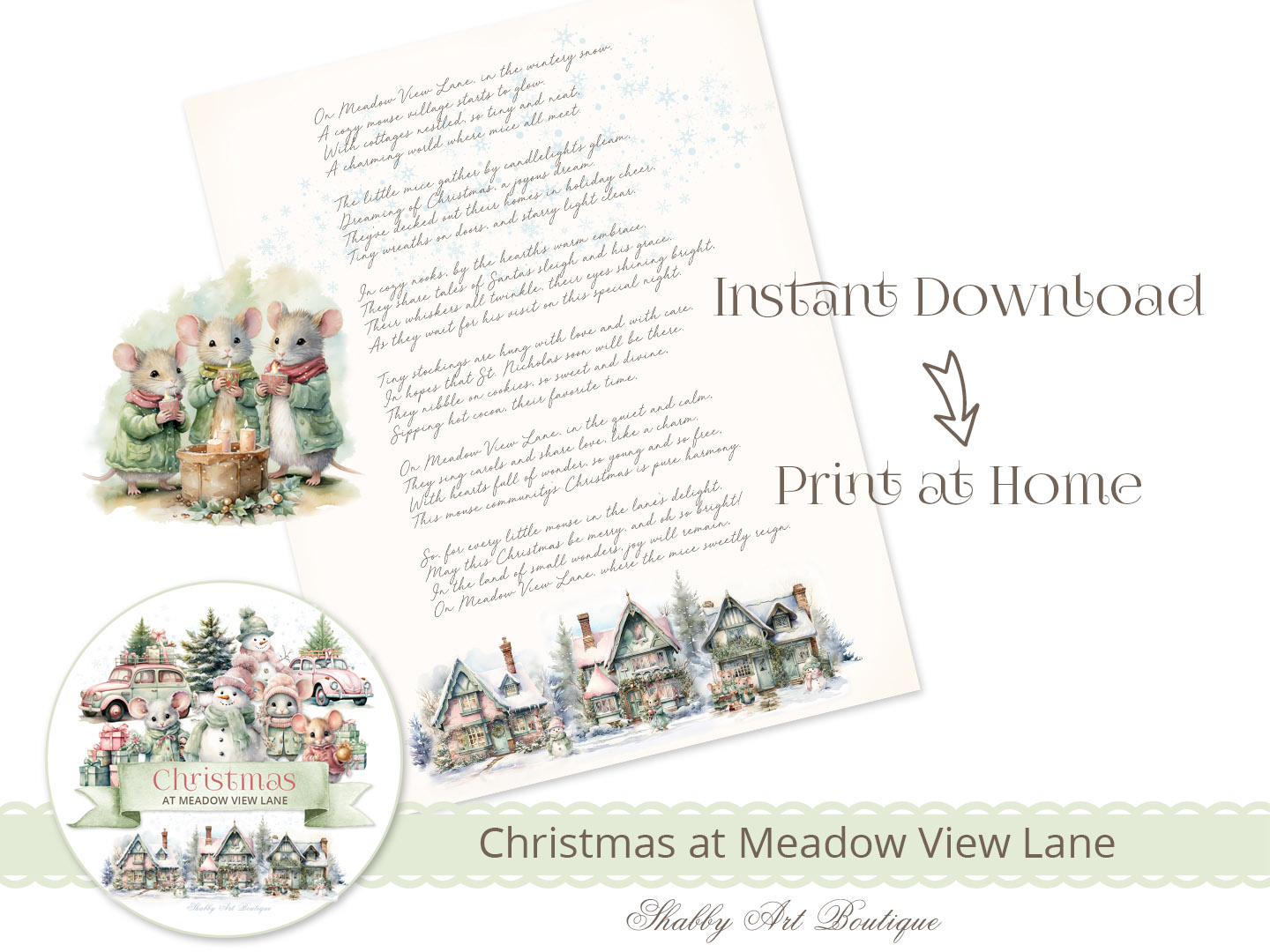 I'd love for you to join me in the enchanting world of Meadow View Lane, where a community of charming mice is ready to celebrate Christmas and winter with you.
It's a place where stories come to life through art, and where you can be a part of the whimsical tales that unfold.
How to buy this kit.
Head over to Etsy and make Christmas at Meadow View Lane a part of your creative journey.
Click here – for the A4 paper listing for Christmas at Meadow View Lane.
Click here – for the Letter paper size listing (USA & Canada) for Christmas at Meadow View Lane.
I hope you explore, create, and cherish the magic of Christmas with the sweetest mouse community.
Happy crafting!
Hugs
♥
Kerryanne
Let's be friends on….
Get instant access to the free printables in my Newsletter Printables
Library by joining my email newsletter subscriber's list.
I send out a weekly newsletters with updates on all things
'shabbilicious' at Shabby Art Boutique.
I invite you to join our fabulous and friendly
Facebook group – Simply Shabbilicious
where you'll enjoy our friendly banter and inspirational creativity.