Hi creative friends,
Let's take a peek at what our gorgeous Design Team ladies have been working on this week.
Nicola ~ My Shabby Craft Corner
Nicola's had a few different projects on the go….
VINTAGE DRESSMAKER JOURNAL
Starting with her fabric journal that she has been working on in live Facebook posts in her group Shabby Journals Crafts and More.
The journal is now finished and it turned out absolutely gorgeous.
It's filled with pretty fabric, lace and doily embellishments, printed papers and fussy cut elements.
You can view more images of Nicola's journal on her Instagram account.
Nicola used my Vintage Dressmaker kit to create this beautiful fabric and paper journal.
You can see the full kit in my Etsy store:
Click here for –> A4 Vintage Dressmaker kit
Click here for –> Letter (USA) Vintage Dressmaker kit.
PARIS STREET FLOWER CART
Nicola's second project is a very detailed and gorgeous Paris street diorama with flower cart, created using the new March kit for the Craft Room.
From the sweet vintage ladies to the pink and white flower cart, Nicola's Paris street scene is adorable.
She has surrounded the cart with many of the floral fussy cuts provided in the new Craft Room kit, The Flower Cart.
This digital kit is an exclusive offering for the members of the Craft Room membership.
Click here –> to find out more about the Craft Room.
Thanks Nicola… I love these project so much sweetie ♥
You can connect with Nicola on her 'My Shabby Craft Corner' accounts: Instagram and YouTube
Be sure to subscribe to her YouTube channel, so you can keep up with all of her fun tutorials.
Sandy ~ Septeria18
Last week I featured Sandy's beautiful shabby embellishments; needle & trim file folder, pocket, tags and embellies.
They were made using the new Linen, Lace & Paper digital kit…. and if you haven't seen it yet, you can watch the detailed flip through here.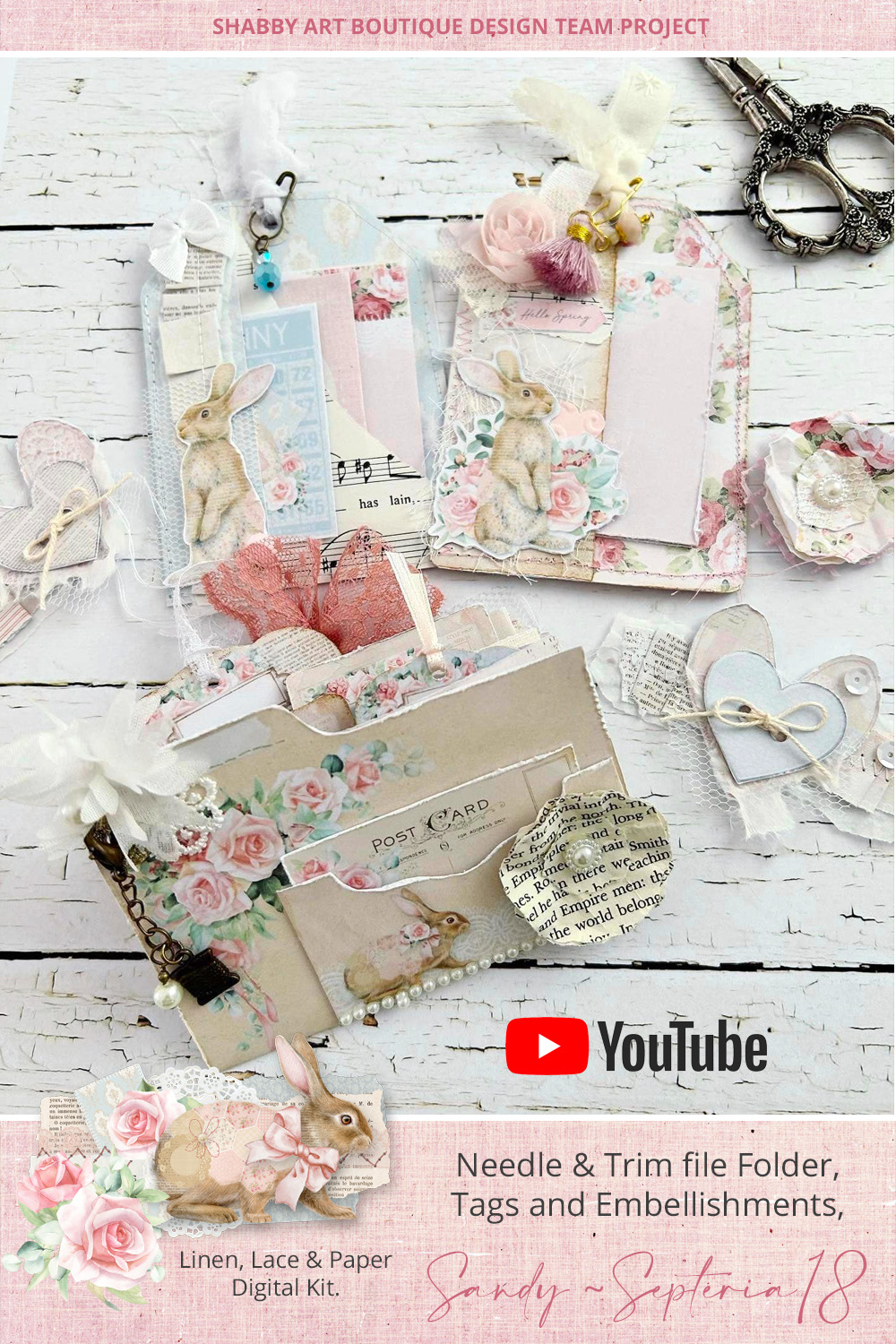 YOUTUBE TUTORIAL
This week Sandy has shared a fun tutorial to show you how she made the cute file folder and pocket tags.
They are really simple to make, yet so shabby and pretty.
Click the video below to watch Sandy's tutorial.
Don't forget to subscribe to Sandy's Septeria18 YouTube channel!
We all love Sandy's projects, so be sure to subscribe to her Septeria18 YouTube Channel so you don't miss any of her upcoming tutorials and follow Septeria18 on Instagram.
You'll find Sandy's gorgeous embellishments in her Septeria's Room Etsy Store.
Thanks for inspiring us with these beautiful projects, Sandy ♥
Linen, Lace & Paper Digital Kit
Sandy used my Linen, Lace & Paper kit for all of these projects.
This kit is multi faceted, so that you may use it for spring, Easter or general shabby crafting. It also coordinates with many of my other shabby kits.
Here's a closer look at what's in the Linen, Lace & Paper kit.
This kit is available in my Shabby Art Boutique Etsy store.
Click here –> for the Letter (USA) size Linen, Lace & Paper kit.
Click here –> for the A4 size Linen, Lace & Paper kit.
You may also be interested in the free mini kit for Linen, Lace and Paper collection.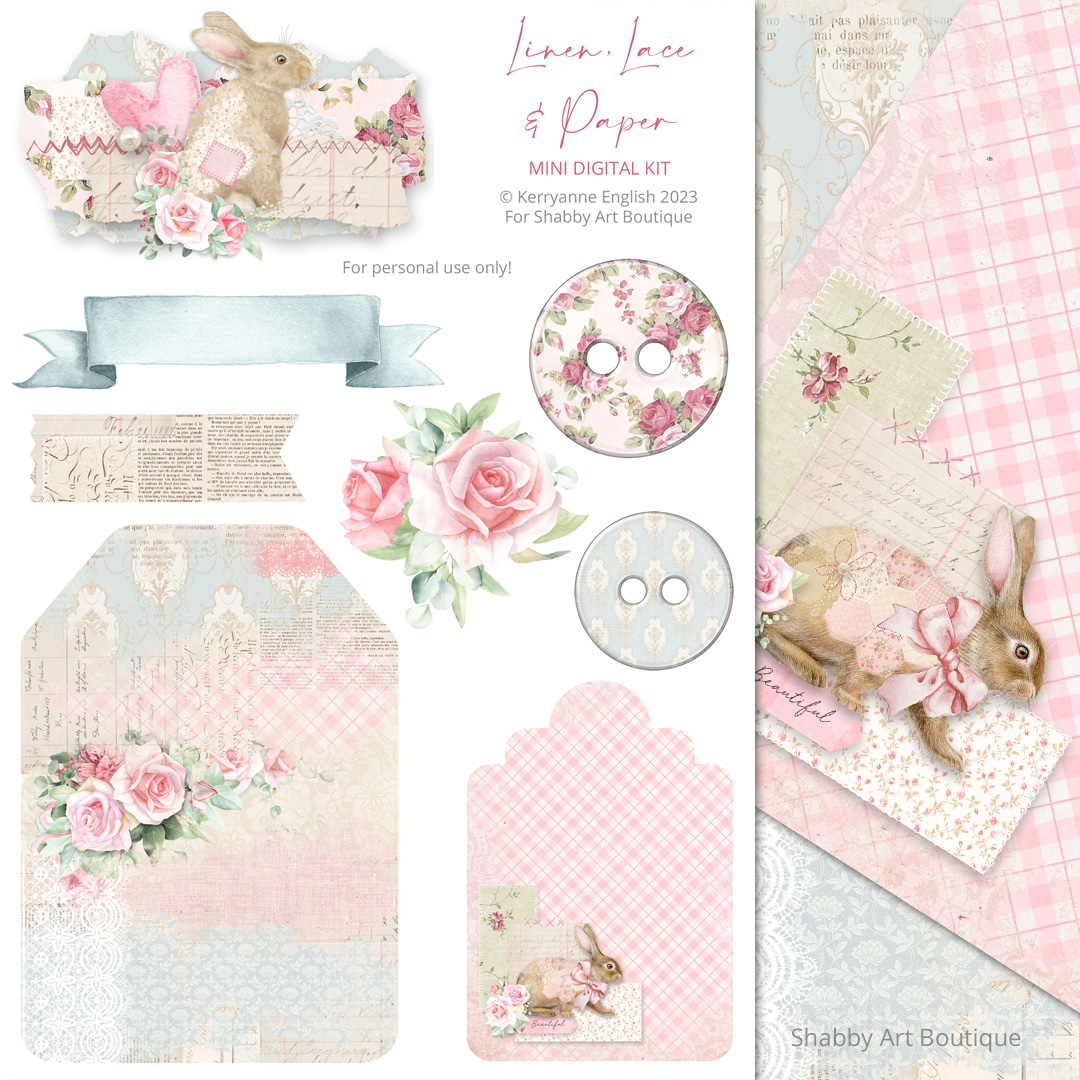 Happy crafting,
♥
Kerryanne
Let's be friends on….
Get instant access to the free printables in my Newsletter Printables
Library by joining my email newsletter subscriber's list.
I send out a weekly newsletters with updates on all things
'shabbilicious' at Shabby Art Boutique.