Hi creative friends,
Thanks for dropping by to check out this week's beautiful Design Team projects from Nicola, Sandy and Carolyn.
This weeks inspiration is for two kits; Spring Snippets on Etsy and the Meadow View Lane kit for the Craft Room Membership.
Nicola ~ My Shabby Craft Corner
Last week Nicola shared a 'Craft with Me' video and a sneak peek of her gorgeous Miss Penelope Mouse journal that she was working on.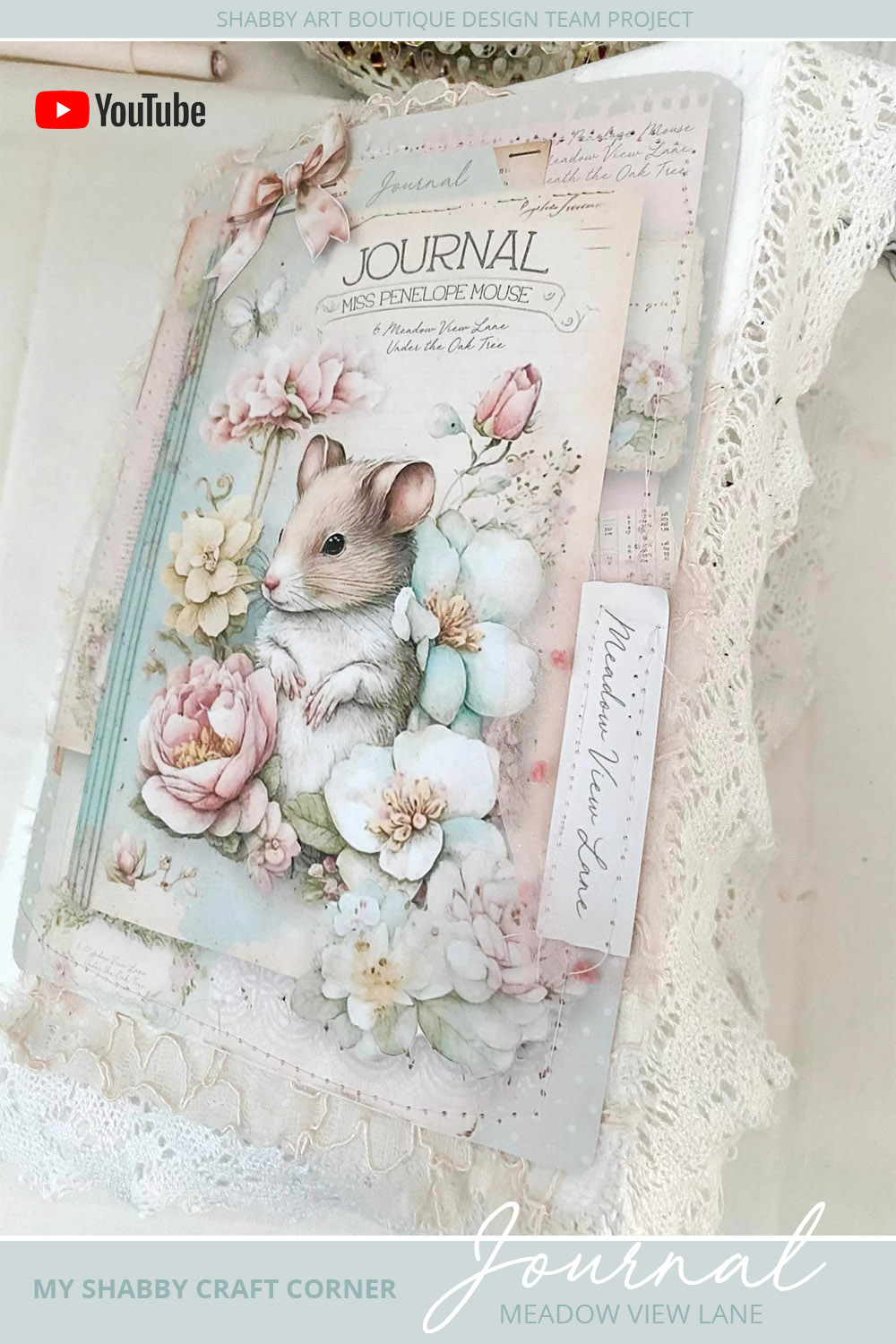 This journal is now all finished and the inside is as gorgeous as the cover.
Click the video below to watch Nicola's flip through on YouTube.
Isn't that journal just so precious with all of the lace trimmings!
Nicola also shared her third project made with the Meadow View Lane kit… it is a fun and whimsical MDF Mouse Clock.
She has inserted the kit artwork into the frame on the sides of the screen and created a sweet floral clock face for the top.
Thank you Nicola… I love your Meadow View Lane projects, sweetie ♥
You can connect with Nicola on her 'My Shabby Craft Corner' accounts: Instagram and YouTube
Be sure to subscribe to her YouTube channel, so you can keep up with all of her fun tutorials.
Join Nicola's Shabby Journals Craft & More Facebook group.
Meadow View Lane Collection
The Meadow View Lane Collection is an exclusive kit for the Craft Room membership.
The doors to the craft room open up twice a year for new members, and will open again on May 20th.
For more information, visit the Craft Room.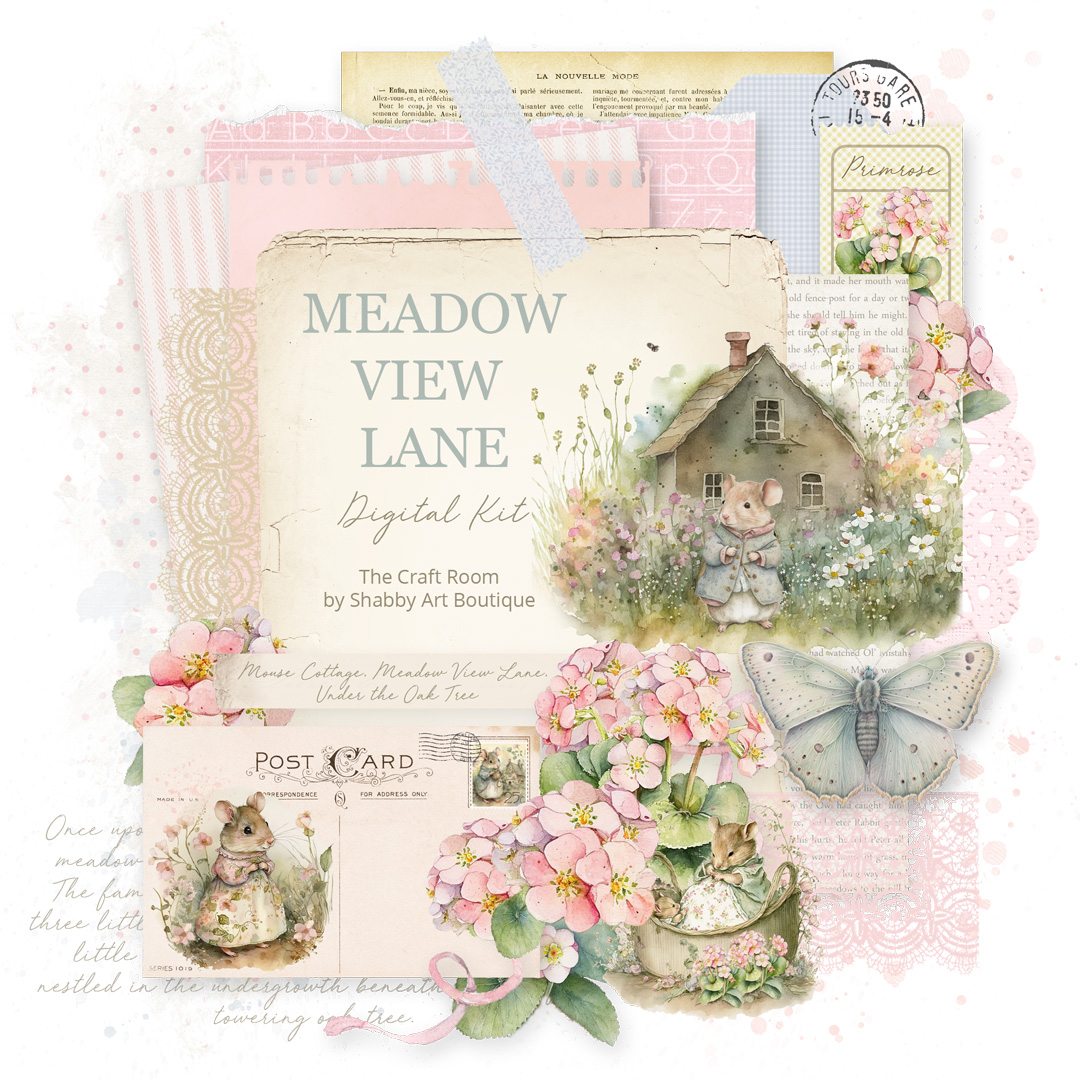 Sandy ~ Septeria18
Sandy has started a new weekly YouTube series called Shabby Sunday Series, where she'll feature shabby projects every week.
Be sure to subscribe so that you don't miss any of her fabulous shabby projects.
This week Sandy has used the Spring Snippets digital kit to create a wonderful collection of simple mini projects.
They include: a mini spring journal, an embellished tag, pocket ephemera holders in two sizes, a tag ephemera folder and a collaged tag pocket.
Click the image below to watch on YouTube.
So many beautiful inspiring projects and as Sandy says in her video, you could use any digital kit to make these projects… so I hope you found these projects inspiring.
PIN for later.
We all love Sandy's projects, so be sure to subscribe to her Septeria18 YouTube Channel so you don't miss any of her upcoming tutorials and follow Septeria18 on Instagram.
You'll find Sandy's gorgeous embellishments in her Septeria's Room Etsy Store.
Thanks for inspiring us with these beautiful projects, Sandy ♥
Carolyn ~ Carolyn's Paper Therapy
Carolyn recently shared a journal topper tutorial with us that she made using the Spring Snippets digital kit and a junk mail envelope.
The beautiful Bee Happy Spring Journal is now complete and Carolyn shared a detailed flip through video on her channel this week.
Click the image below to watch on YouTube and be sure to subscribe.
Carolyn had so many great tips and I love those sweet beaded dangles too ♥
Pin for later
Click here to watch the tutorial for making Carolyn's journal topper.
Thanks for sharing both of these adorable projects Carolyn ♥
You can connect with Carolyn on her YouTube channel, Carolyn's Paper Therapy.
Spring Snippets Kit
For more information on the Spring Snippets digital kit –> click HERE.
Don't miss the free Spring Snippets printable sampler.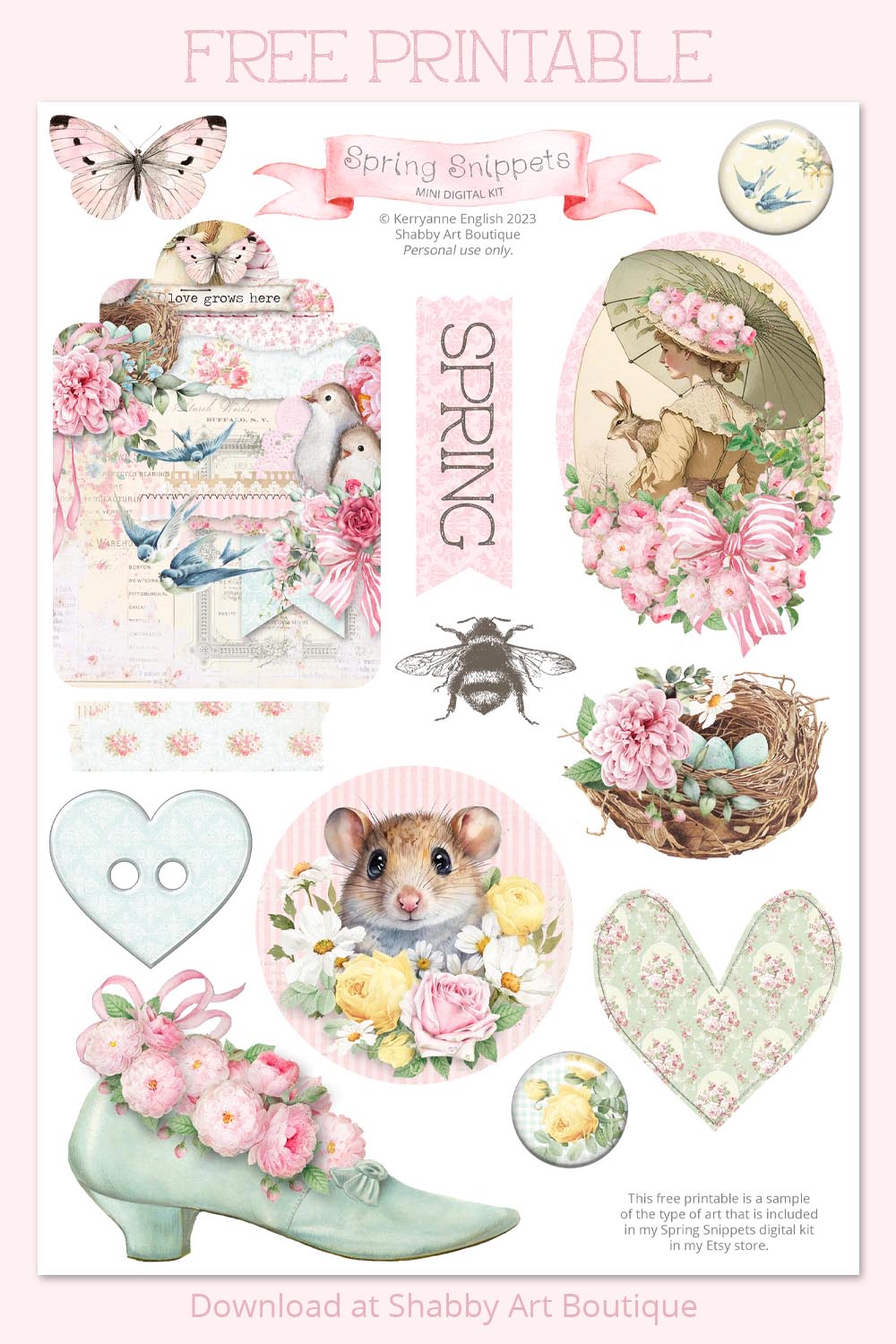 We were absolutely spoiled with gorgeous projects this week… I hope you feel inspired to create.
Happy crafting,
♥
Kerryanne
Let's be friends on….
Get instant access to the free printables in my Newsletter Printables
Library by joining my email newsletter subscriber's list.
I send out a weekly newsletters with updates on all things
'shabbilicious' at Shabby Art Boutique.