Hi creative friends,
Every week my fabulous Design Team fill me with inspiration with their amazing projects and talents.
And, I love that their creative styles are all so varied and make us think outside of the box.
For me personally, I am always learning and expanding my skillset, so I truly appreciate each of the projects the Design Team creates.
I especially love that when we share like this as a community, we all have the opportunity to boost our own creativity…. .. I hope you are inspired too.
Nicola ~ My Shabby Craft Corner
This week Nicola used the new Spring Snippets digital kit from my Etsy store to create a breath-taking shabby fabric and paper journal.
Vintage linens, laces and hankies form the base of this stunning journal, which has been embellished with 'snippets' and papers from the Spring Snippets kit.
Nicola very cleverly created a snippet belly band for the outside of the journal using a fabric curtain tie back and it is the perfect closure for such a beautiful journal.
Be sure to watch the flip through of this shabby stunner on Nicola's YouTube channel, My Shabby Craft Corner.
Were you inspired by the luscious lacy layers in this journal?
What about that adorable hanky envelope!!
PIN for later
Thank you Nicola… I love your Shabby Spring Snippets journal, sweetie ♥
You can connect with Nicola on her 'My Shabby Craft Corner' accounts: Instagram and YouTube
Be sure to subscribe to her YouTube channel, so you can keep up with all of her fun tutorials.
Join Nicola's Shabby Journals Craft & More Facebook group.
Spring Snippets Digital Kit
For more information on the Spring Snippets digital kit –> click HERE.
Don't miss the free Spring Snippets printable sampler.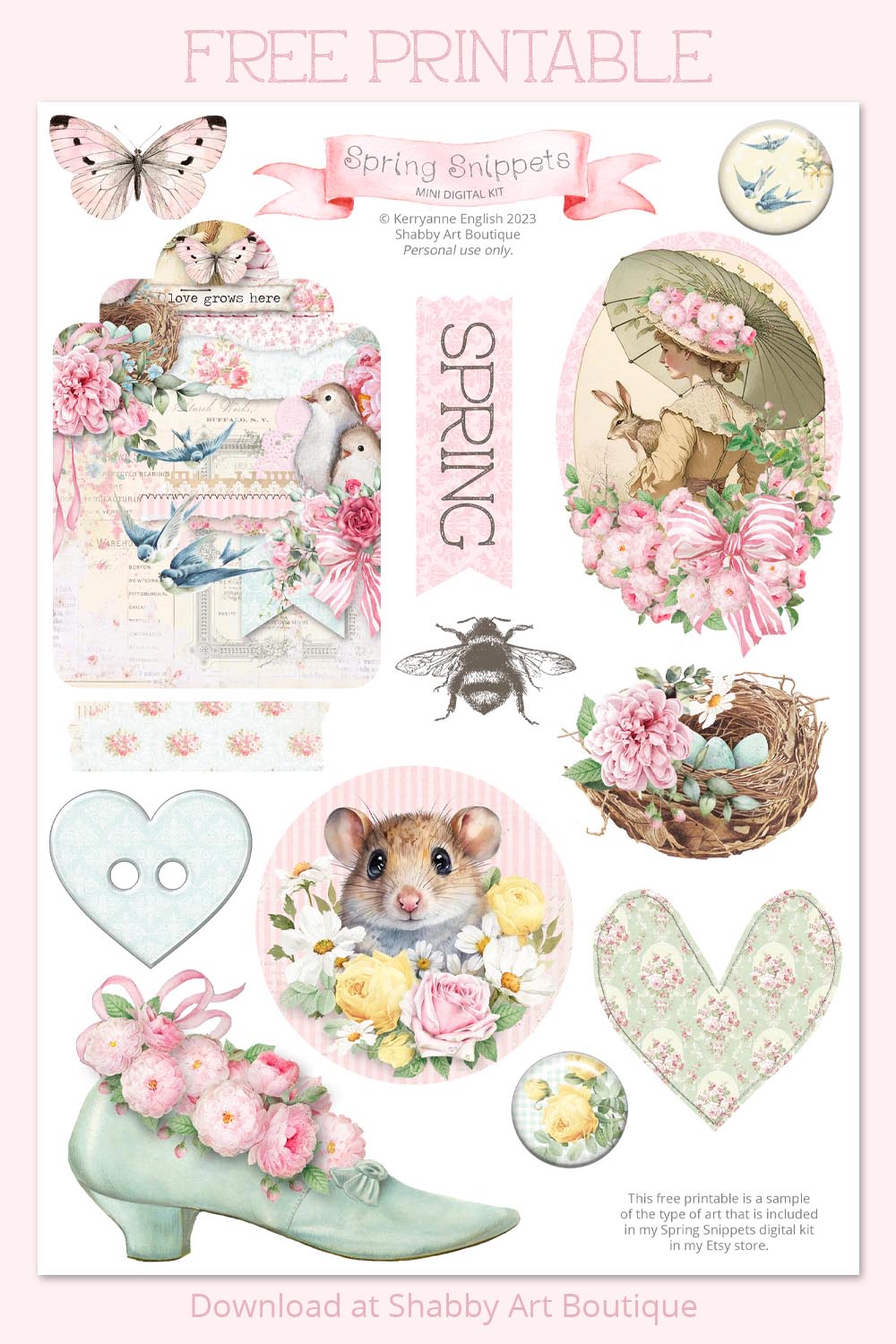 Carolyn ~ Carolyn's Paper Therapy
I am delighted to introduce you to our new member of the Design Team, Carolyn from Carolyn's Paper Therapy.
Carolyn has a wonderful YouTube channel, where she shares paper crafting tutorials twice a week.
She has been using my digital kits in her projects for some time now and I was keen to share her talents with you all… so please welcome her to our community.
I know that you'll find her tutorials very inspiring and easy to follow, so be sure to click the subscribe button.
Little Village Garland
Carolyn's first official DT project is a pretty village garland, created using The Little Village digital kit from the Craft Room membership.
To see how Carolyn created the garland, watch her latest video tutorial on her YouTube – Carolyn's Paper Therapy.
Be sure to click 'subscribe'.
These sweet little wood banners measure 3 1/2″ x 5 1/2″ and were decorated with the village shops from the kit and sweet cottage embellishments.
It's a gorgeous décor project that can be used year-round.
Welcome Carolyn!
Thank you for sharing this beautiful and inspiring village garland with us ♥
You can connect with Carolyn on her YouTube channel, Carolyn's Paper Therapy.
The Little Village Collection
For more information on The Little Village –> click HERE.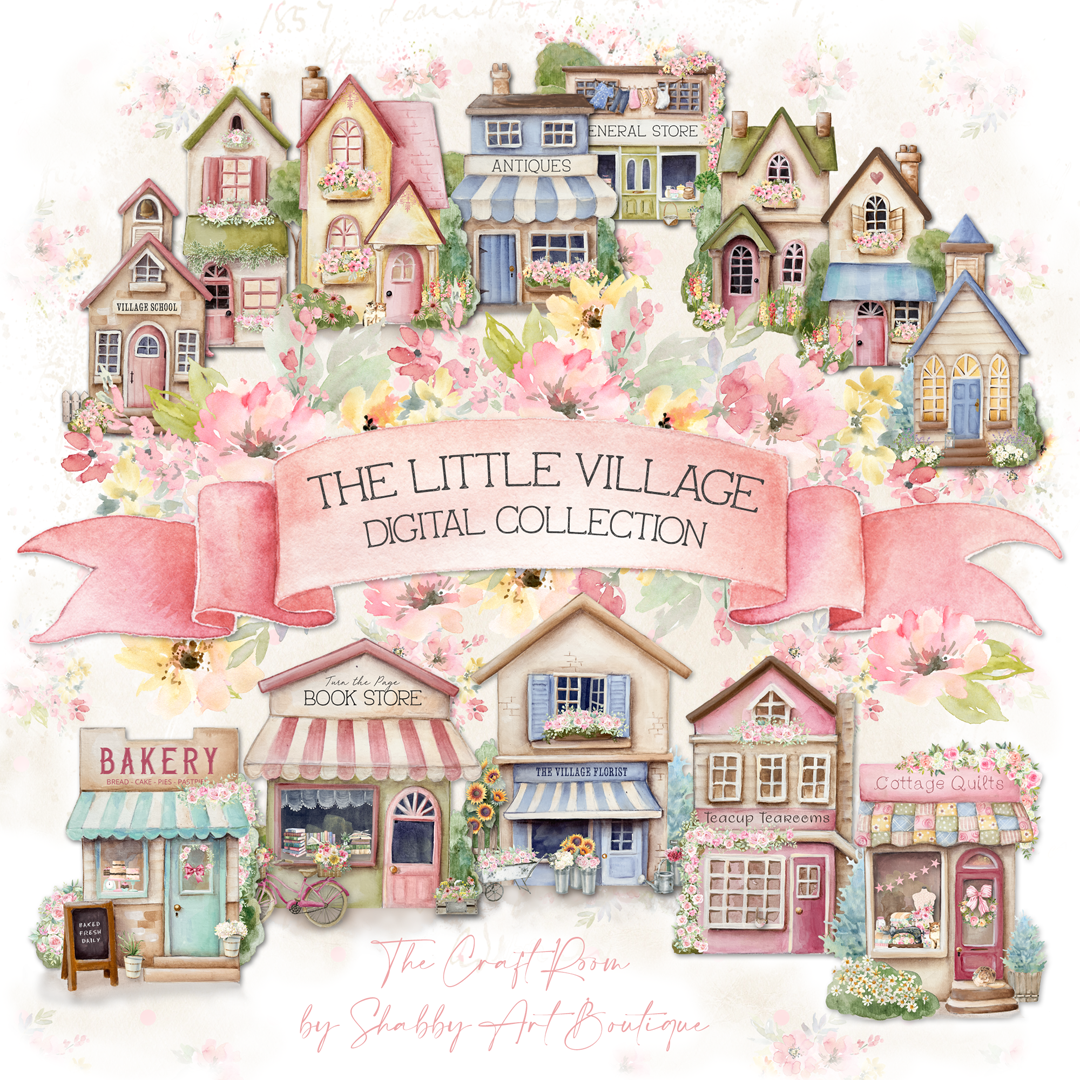 Happy crafting,
♥
Kerryanne
Let's be friends on….
Get instant access to the free printables in my Newsletter Printables
Library by joining my email newsletter subscriber's list.
I send out a weekly newsletters with updates on all things
'shabbilicious' at Shabby Art Boutique.