Hi creative friends,
For the past few years I've shared a yearlong project that provided a themed free printable postcard each month.
I thoroughly enjoyed having you join me for A Year of Positivity and A Year of Gratitude.
This year there is a new theme. It's close to my own heart and in fact, it is also my word of the year…. self-love.
Self-Love
The concept of self-love is simple; it just means valuing and caring for your own needs, wants and desires.
It isn't about being selfish.
It's about making sure you make time to recharge and have the energy to be there for others.
I think women especially, are often kept busy caring for partners, children, grandchildren, elderly parents etc and run out of time to show themselves the same care.
I'm raising my hand here… I am guilty of juggling too many things and most often the person who misses out is myself.
By taking self-love as my word of the year, I've made a conscious decision for 2023 to be more intentional in taking better care of myself… even if it is just doing one small thing each day!
A Year of Self-Love
Once I embraced 'self-love' as my word for 2023, I decided to keep a journal dedicated to that theme, where I could write down my thoughts and progress throughout the year.
I've created monthly postcards to include in my journal and I'll be sharing those cards here with you each month in 2023.
January Self-Love Card
Each card in the Self-Love series will be shabby, feminine and Victorian themed and will contain a positive quote.
The postcards are standard size, 9 cm x 14 cm (3.5″ x 5.5″), and can be used back to back to create a double sided postcard or alternatively used as two separate journal cards.
Note: Instructions on how to create the double sided card is included on the free printable.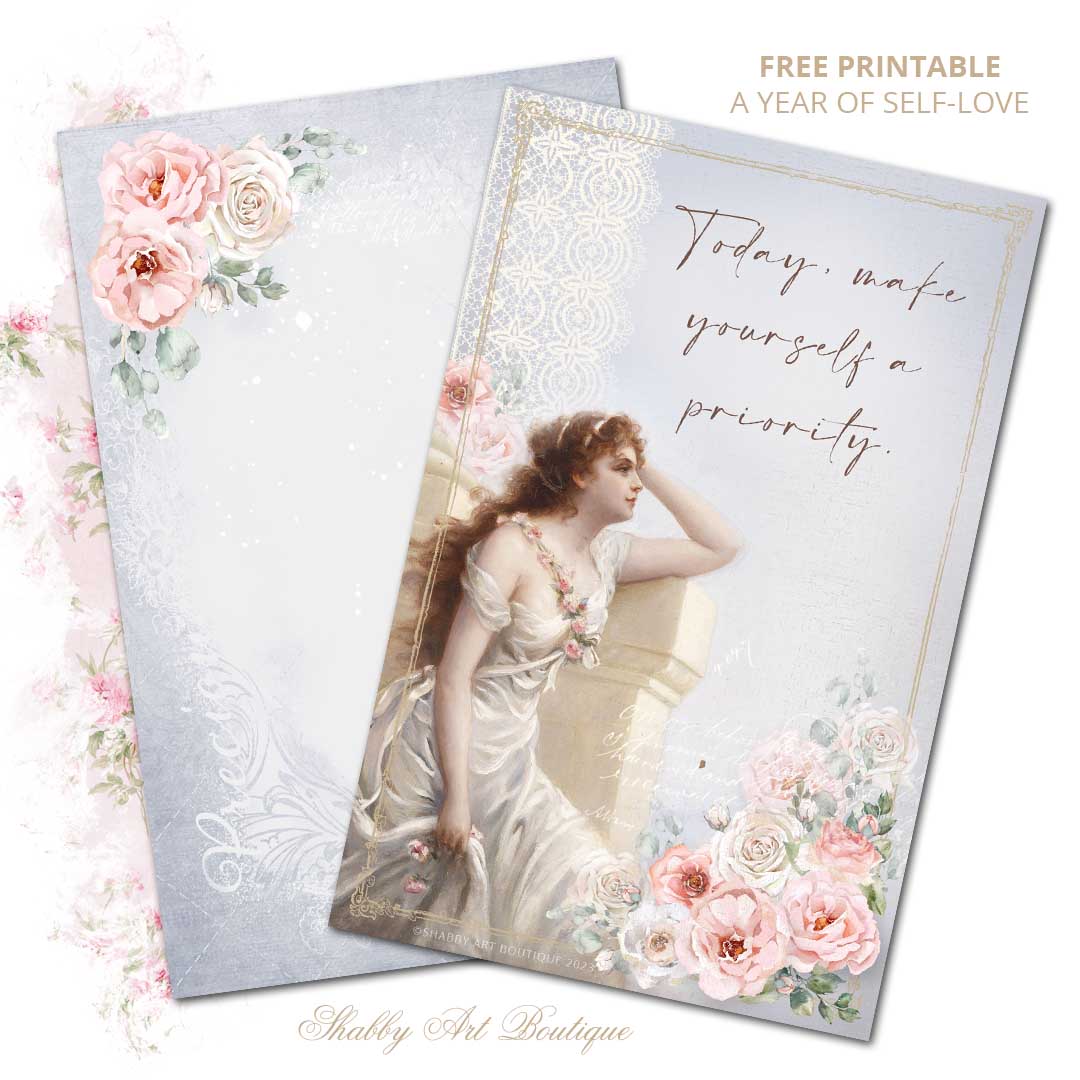 The January card has a calming blue background and contains a snippet of art by the wonderful French painter, Edouard Bisson and posies of pink and ivory roses.
I felt the quote "Today, make yourself a priority." was a good place to start.
Here are a few ways I'll be showing myself some self-love in 2023:
Making some quiet alone time to read a real turn the page book.
Taking a break from screen time – digital detox.
Relaxing into a deep bath with scented water, dimmed lights, candles, headphones in and listening to my favourite music.
A pamper session… could be anything from a massage or acupuncture to just alone time in the bathroom to paint my toenails or put on a face mask.
Meditating or a long peaceful walk…. enjoying the serenity of the beach or nature. Focusing on breath and positive affirmations.
A rejuvenating nap… even more important following Covid.
Spending time in my 'happy place'… for me that's spending time in my craft room that is not work related. Simply enjoying the moment, surrounded by the things that make me smile and crafting on a whim.
Making a set time to write or create in my journal.
Calling a friend for a chat.
Watching the sunrise.
Perhaps you have some ideas to add to the list. I'd love to hear them in the comments below.
How to download the January Self-Love Card
You'll find the January Self-Love card ready to download in the Newsletter Subscribers Printable Library – the password to this page is on the bottom of your latest newsletter.
Not yet a member?
No problem, simply sign up for the Shabby Art Boutique newsletter and get instant access to all of the free printables in the library.
PIN for later.
I hope this years theme resonates with you too!
I'd love to see how you use the postcards in your creative projects this year, so please feel welcome to share them in our Facebook group, Simply Shabbilicious.
Happy crafting!
Hugs
♥
Kerryanne
Let's be friends on….
Get instant access to the free printables in my Newsletter Printables
Library by joining my email newsletter subscriber's list.
I send out a weekly newsletters with updates on all things
'shabbilicious' at Shabby Art Boutique.
I invite you to join our fabulous and friendly
Facebook group – Simply Shabbilicious
where you'll enjoy our friendly banter and inspirational creativity.