Hi creative friends,
There's been lots of inspiration for you this month with the Belle ~ Vintage French Rose kit…. both from the Design Team ladies and the members in our Simply Shabbilicious Facebook group.
It's proving to be a very versatile kit with a tonne of options for creating all types of projects.
Nicola ~ My Shabby Craft Corner
Nicola has already created quite a few projects this month with the Belle kit… you can check out the first five projects HERE.
And she had a few more up her sleeve this week too.
Romantic Stacked Nest Cake
Do you love a shabby, romantic crafting space?
If you said yes, then I'm sure you'll love Nicola's stacked nest cake she made this week. How adorable is this shabby storage!
The stack of boxes is dripping in gorgeous laces and embellishments… and of course the papers are from the Belle Vintage French Rose collection.
You can see more of Nicola's crafting space on her Instagram account, My Shabby Craft Corner.
Tutorials ~ Creating a Shabby Altered Envelope Journal
This past week Nicola created a series of 'Craft with Me' tutorials for creating a simple envelope journal using the Belle Vintage French Rose kit.
There's no sewing, so it's perfect for beginners or someone thinking about getting started in journal making.
Part 1
Part 2 – click to watch on YouTube
Part 2 continued…. don't forget to subscribe while you are there!
Part 3 – creating embellishment tags for journal
Part 4 – Finishing off the Journal
What a fun project!!
Did you enjoy watching the full process?
PIN for later
Creating Easy Lace Spools
Nicola has set another fun challenge for members of our Facebook groups.
Have you ever made your own spools to store lace on?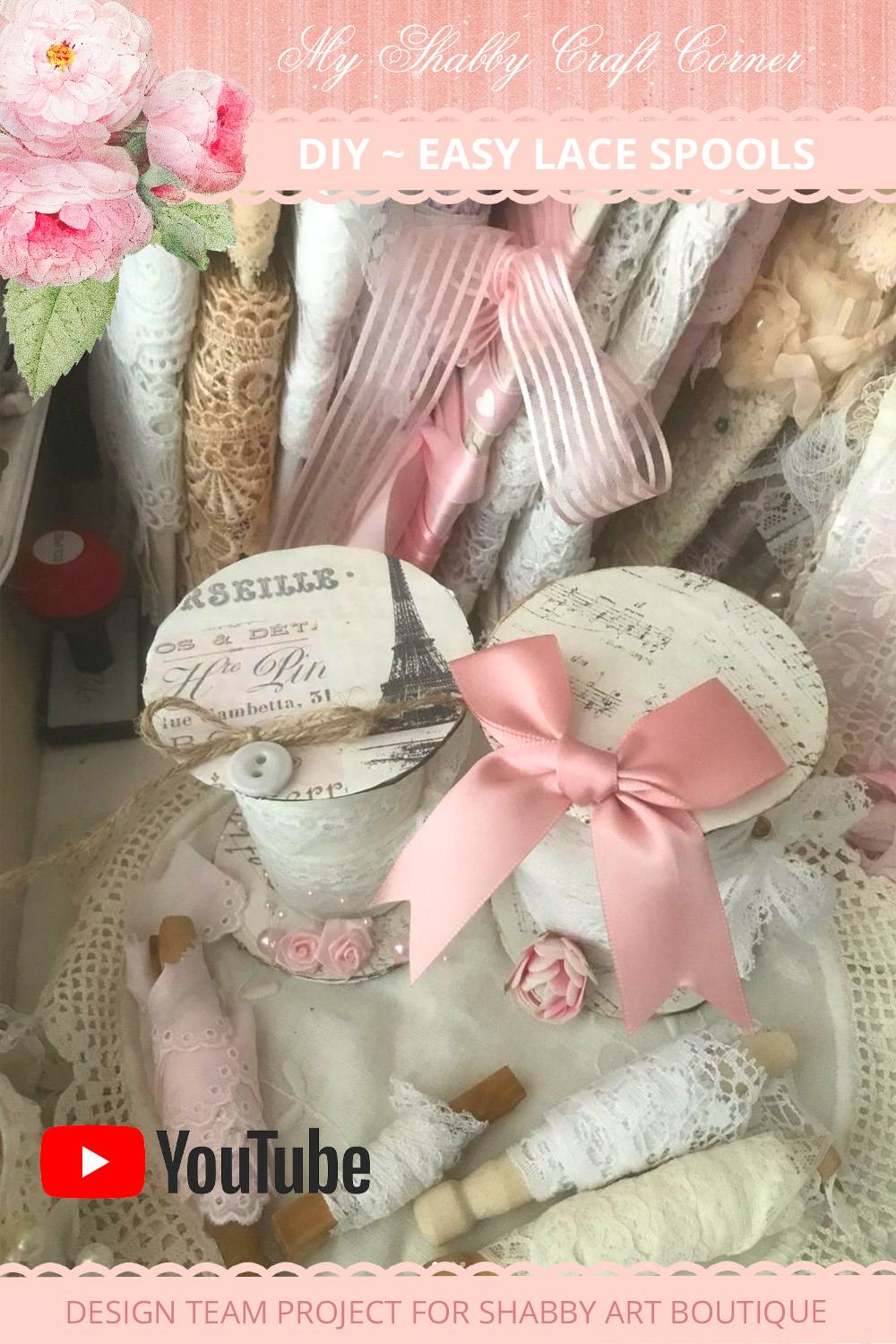 Not only are they super cute, they are also really quick and easy to make.
Watch Nicola's short tutorial video below to see how easy it is to make your own and we'd love to see how you decorate yours.
Tri-Fold Pocket and Tag
Finishing up the week, Nicola used left overs to create a sweet tri-fold pocket and tag.
I'm pretty sure she managed to use up every single part of this kit!
You'll find Nicola of 'My Shabby Craft Corner' on YouTube, Instagram and in her Facebook group, Shabby Journals, Crafts and More.
Thanks for another week of the most amazing and inspiring projects Nicola ♥
How to buy the Belle ~ Vintage French Rose Kit
Click this video to see what's in the May kit.
The Belle ~ Vintage French Rose kit costs US$6.50
Click here —> to see the Letter (USA) listing.
Click here —> to see the A4 listing.
Happy crafting!
Hugs
♥
Kerryanne
Let's be friends on….
Get instant access to the free printables in my Newsletter Printables
Library by joining my email newsletter subscriber's list.
I send out a weekly newsletters with updates on all things
'shabbilicious' at Shabby Art Boutique.
I invite you to join our fabulous and friendly
Facebook group – Simply Shabbilicious
where you'll enjoy our friendly banter and inspirational creativity.