If you love to inject a little fun into your Christmas decorating… I don't think you can go past adorably cute Gingerbread Men and peppermint candies.
Don't they just make you want to smile!
Today I'm sharing this super cute 'Print & Make' Gingerbread Man Wreath that is made using the printable graphics from this months 'Home for Christmas' kit. Each month I like to share a few project ideas from the Handmade Club kit to inspire both the members of the club and my blog readers.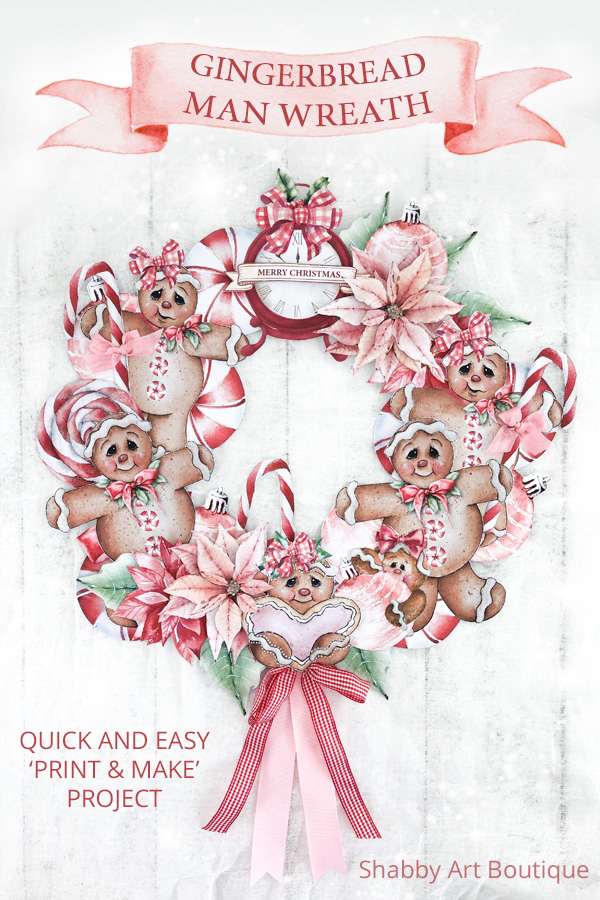 I thoroughly enjoyed painting these cute little Gingers for this months kit…. they have completely different facial features and personalities and they combine so perfectly with peppermint candy canes and sweets for a fun Christmas theme.
Gingers are usually my go-to for my kitchen decorating at Christmas. It's the one room that I add in some red to the decorating at this time of year.
Gingerbread Man Wreath
Do you know what I love about 'print & make' projects… all the hard work is already done for you.
I've just added my print files for this project to the November kit, so you don't even need to resize all of the elements.
This project is ready for you to simply print, cut out and assemble!
Materials:
Matte photo paper – I used A4 250gsm photo paper – if you are in the US, look for photo paper with a cardstock thickness.

Tools for fussy cutting – sharp pointy nosed scissors and/or craft knife

Thick cardboard to make the wreath – you will need a 30 cm x 30 cm piece (12" x 12")

White glue

White German Glass Glitter – or glitter of choice.
Instructions:
1. Club members will need to download and print the Gingerbread Man Wreath PDF file from the November kit.
Tip: For best print results, please use coated paper like matte photo paper and set your printer options to best/high print.
2. Fussy cut all of the elements.
When using scissors, cut with the bottom part of the blade and not the tips. The bottom of the blade will give you a nice clean cut. Also, move the paper through the scissors, rather than moving the scissors. This will make is easier and faster to cut out your designs.
3. Time to embellish…. you'll notice that the pink poinsettias have two printable layers. I like to curl the petals on the top layer slightly to add more dimension. I do this simply by rolling the petals over a pen to curl them. You can also just use your fingers to shape the petals. When you are happy with the shape, add a dot of glue to the centre of the large flower and place the dimensional layer on top.
I also threw a little glitter around… it's Christmas after all. It's up to you how much glitter you use and where. I added it to the icing on the gingers and the centre of the flowers… maybe a bit here and there on the candies too! It doesn't really show up in the photos very well, but does when hanging up.
4. From the thick cardboard, cut out a circle that is 30 cm (or 12") in diameter and 5cm (or 2") thick.
This is the base onto which you will be adhering the graphic elements, so it doesn't have to be perfect, as it will be well hidden.
5. Let's make a wreath! I suggest placing your elements onto the wreath base prior to adding any glue, just to be sure you like the layout. Once you are happy with the placement, use white glue (remember, not too thick) to adhere your fussy cut pieces.
There's no right or wrong with this…. as long as you love it, it's perfect!
If you are hanging your Gingerbread Man Wreath, you will need to add some kind of hanger/ribbon to the back.
I think I may add mine to a lush fir needle wreath I already have and attach it over the top, so the greenery surrounds it.
If you'd like to make this project and don't belong to the Handmade Club, this kit will be available until the 14th December, 2020. You can find out more about the Handmade Club HERE.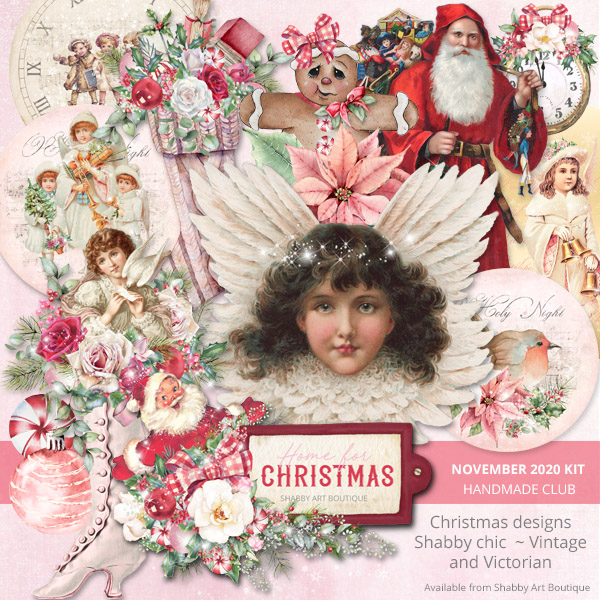 See what else is in the 'Home for Christmas' kit HERE.
If you make a gorgeous Gingerbread Man Wreath,
I hope you'll share it in our Facebook group, Simply Shabbilicious.
Happy crafting my friends!
Hugs
♥
Kerryanne
Let's be friends on….
Get instant access to the free printables in my Newsletter Printables
Library by joining my email newsletter subscriber's list.
I send out a weekly newsletters with updates on all things
'shabbilicious' at Shabby Art Boutique.
I invite you to join our fabulous and friendly
Facebook group – Simply Shabbilicious
where you'll enjoy our friendly banter and inspirational creativity.