If you are someone who likes vintage crafting, there's a good chance you have a stash of old books at the ready.
There's just something about browning book pages that adds character to a vintage project… especially at Christmas.
So today I thought I'd share a few of my own vintage book paper projects and their tutorials.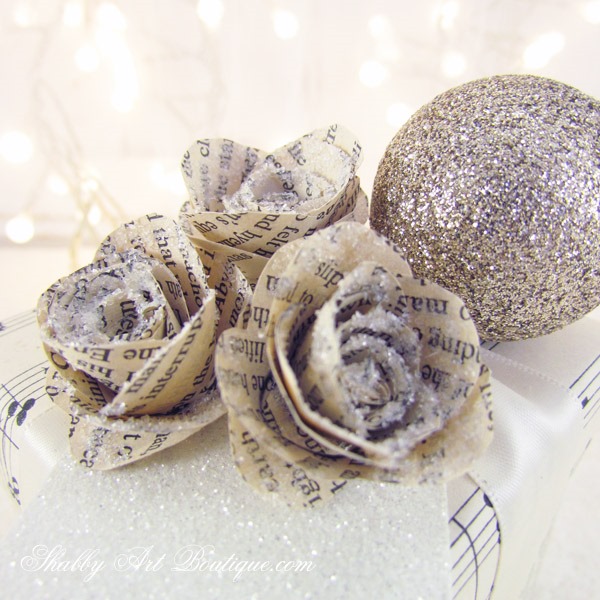 My first big book page project was a Christmas tree made of paper roses back in 2011… you'll see that one at the end of this post.
I'm still making those little rolled roses and used them last year as embellishments for my gift wrapping.
I still use and love these book paper baubles with there frosting coating and rhinestone bling!
Book paper is also great for use in making ornaments. I used it here for the wings on my Angel Wings ornament.
These concertina pages are the perfect backing for my Victorian Angel ornaments.
Quite a few years ago now, I had a vintage theme for Christmas and used lots of old books in my decorating. First there were these sweet little 'Word Birds'…
And then a Vintage Star Wreath…
Next came a Noel banner for over a doorway…
And then there was the Christmas Tree.
Oh gosh, I still remember making that big tree. The photos aren't the best, but you get the gist of it.
It was huge!!
I foolishly thought that this was going to be the greatest project ever. At that stage I hadn't seen anyone else using paper roses to decorate a tree and it all started off well. Page after page of printing the rose template on old book pages…. cutting them out, rolling them up… and hot gluing them to a foam tree base.
Several days later, I was till making roses and had gone too far to stop…. but the end still seemed too far away.
I have to admit, it was lovely when finished and people still remark on it today, but it was such a lot of work. Take it from me, start small if you are going to make a book paper rose project!
The roses are easy to make:
1. I made a template and set a word document to the same size as my book paper and ran the pages through my printer with two roses to each page. Some people just freehand cut the roses. That works too.
2. Then you cut out around the outline and roll the rose up, starting at the outer edge.
3. A dab of hot glue at the base and the rose holds its shape… see, pretty easy!
You can then use your roses to make trees, wreaths or even sweet Christmas tags.
So, if you want to add a vintage touch to your Christmas decorating, book paper is pretty versatile.
PIN for later
Happy festive crafting,
♥
Kerryanne
I'd love for you to connect with me at:
Follow on Bloglovin
or if you'd like my posts delivered directly to your Inbox
Subscribe to Shabby Art Boutique by Email
If you'd like a private pass to all things 'shabbilicious, sign up today for my fortnightly newsletter. It contains personal stories, sneak peeks, recommendations, discounts and freebies.