Hello friends… it's time for Shabbilicious Sunday again.
Each week in this series I share with you a visit to a home of one of our 'shabbilicious' friends. What could be better than to take a tour around their home, have a chat and get to know a little more about them.
Today we are stepping inside, not one, but two homes owned by Janet of Shabbyfufu.
If there was a 'Queen of Shabby', I think Janet would definitely wear the crown.
Renowned in shabby circles for her well known style and beautiful blog, Janet has built her following on a simple principle…. creating a high end look on a budget, over time.
Janet lives in Miami, Florida in the USA. She is fortunate to have both a beautiful home in the suburbs and a beach house there.
As an entrepreneur and wearer of many hats, Janet divides her time between her beautiful blog Shabbyfufu, maintaining her Etsy shop and working as a stylist and photographer for magazines both within the U.S and overseas.
I asked Janet how she describes her decorating style…
"My style is ever evolving, just as with life we change and grow over the years. A few things remain constant, and I would say that the main thing is that I love vintage items that speak of the past and have patina and mix them in to every room".
Janet also said "Softly muted colors speak to me and I love lots of light in a room, so all of our walls are painted white to bounce as reflectors. I've been downsizing my collections for the last few years, and have definitely subscribed to the "less is more" look. I still do have collectibles, but keep most of them put away in cabinets and style my rooms sparingly these days and seasonally".
Janet's beach home is smaller, and she's been reworking some of the rooms and cleaning out for a more modern and fresh look.
With such beauty all around her, I asked Janet if she had a favourite piece of furniture. It was no surprise that her favourite was the white tufted vintage sofa. Janet loves tufted pieces and has several in her home. This one was a piece that she found inexpensively at a thrift shop and recovered.
Asked for her best piece of decorating advise, Janet shared these words of wisdom… "Don't try and decorate a room all at once. Have a vision and decorate as you go along and mix in some pieces with a past with anything more practical or even trendy".
Thank you Janet for sharing the beauty of both of your gorgeous homes with us for Shabbilicious Sunday.
You can see more of Janet's beautiful styling on her Blog, Facebook, Instagram, Pinterest and Twitter.
Visit Janet's Etsy shop HERE.
If you enjoyed this edition of Shabbilicious Sunday,
you may like to check our the previous home tours on my
Happy Sunday my friends,
Hugs ~ Kerryanne
I'd love for you to connect with me at:
Follow on Bloglovin
or if you'd like my posts delivered directly to your Inbox
Subscribe to Shabby Art Boutique by Email
If you'd like a private pass to all things 'shabbilicious, sign up today for my fortnightly newsletter. It contains personal stories, sneak peeks, recommendations, discounts and freebies.
Plus, you will also get a free copy of my eBook, 5 Tips for creating a Shabbilicious Home.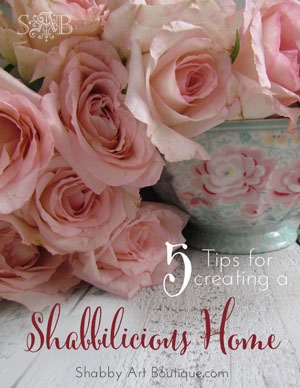 Sign up for my newsletter HERE and don't forget to confirm the sign up email.