Today's project was a little impromptu…
Definitely not what I had planned to show you today, but sometimes inspiration just takes you in a different direction.
Yesterday I dropped into our local craft store to pick up a few things and noticed packets of polystyrene eggs.
They sparked a memory of making padded fabric Christmas balls with my girls when they were young… and you know what that lead to…
As soon as I got home I grabbed my bag of scraps. I chose my Tanya Whelan Rosey fabrics in pink, aqua and mint… I got these from my friends at Shabby Fabrics.
How perfect and adorable are these fabric eggs!!
Materials:
Polystyrene Eggs, rubber bands, scissors, butter knife, craft knife, tracing paper and pencil.
Instructions:
1. & 2. Wrap your elastic bands (I used hair elastics) around your egg, as shown below. Roll on a hard surface to make an indentation in the polystyrene egg.
3. Using the craft knife, carefully cut into the guide lines to a depth of approx.1.5 cm (1/2").
Make a fabric template by tracing one of the egg segments. I simply laid the paper over the egg and roughly traced the shape of the segment. Add an extra 1.5 cm allowance around the first outline. This will be your cutting line.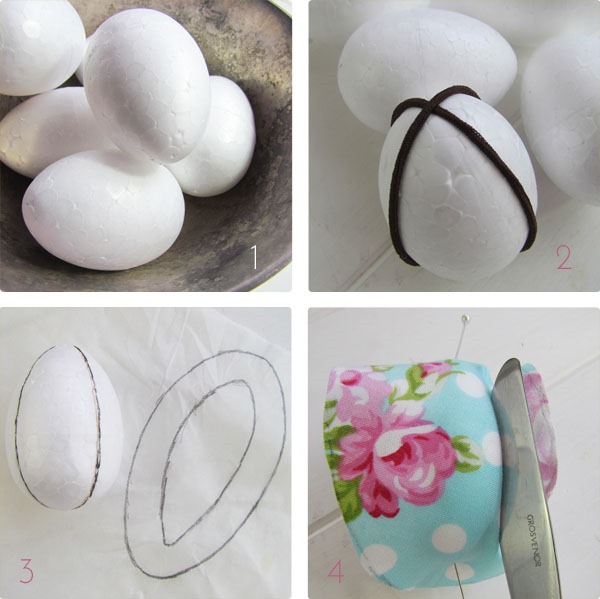 4. Cut out your tracing template and use to trace the shape on your fabric pieces.
Position 1st piece of fabric over the egg and pin in place at top and bottom. Gently push the fabric into the indentation using the butter knife. I started in the middle and worked up and down until I had all the fabric pushed in. I trimmed the excess fabric and pushed any remaining fabric into the egg.
Continue with each fabric panel until all four pieces are in place.
This was such a fun, quick and easy project and I look forward to using these little sweeties in my Easter decorating.
Happy crafting
♥
Kerryanne
I'd love for you to connect with me at:
Follow on Bloglovin
or if you'd like my posts delivered directly to your Inbox
Subscribe to Shabby Art Boutique by Email
If you'd like a private pass to all things 'shabbilicious, sign up today for my fortnightly newsletter. It contains personal stories, sneak peeks, recommendations, discounts and freebies.