I've always liked blocks…
And I especially love Christmas blocks.
I think this block appreciation started when I was a small child.
I had a set of 16 blocks that had a different picture on every face of the block… when turned over they could create 6 different fairy tale pictures.
Since then, I've had many different sets of blocks in my home.
This year I've made a set of vintage style Christmas blocks to sit on my open shelves.
This is such an easy and inexpensive project that even the kids could make it once the blocks are cut.
Here's how I made mine:
Open the download from HERE.
Print designs on A4 matt photo paper. I use 100gram paper weight, which is similar to normal printer paper. It's the perfect weight for crafting projects.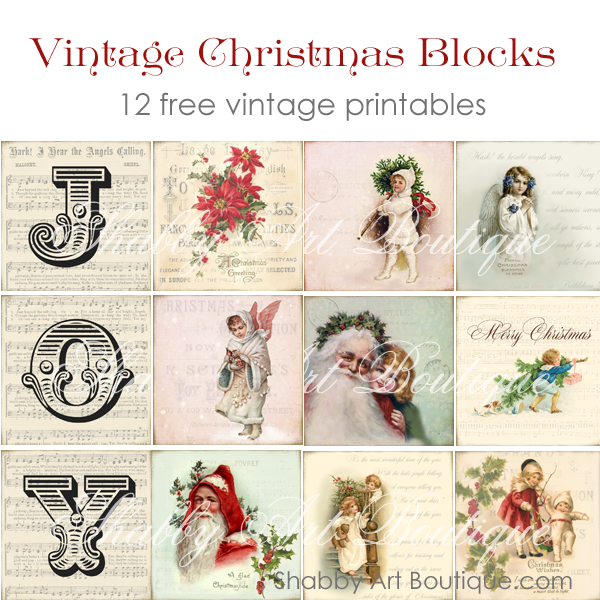 I cut my blocks from a length of 7mm square DAR pine. You could use a hand saw, jigsaw, band saw or circular saw to cut your blocks at 7 cm intervals.
After sanding all my blocks smooth, I painted the edges of my blocks with white paint – just the area that will extend past the printable – about 3mm.
Cut out your vintage panels and adhere to the faces of the blocks using a white glue eg. Mod Podge, PVA, Elmer's Glue. For decoupage projects, I add a little water to my white glue to make it flow more easily. Add glue to both the block face and the back of your printed panels… this allows you to move the piece around into the right position. Use a squeegee or the edge of a credit card to smooth the surface and remove any air bubbles. Wipe away any excess glue.
Continue this process until all 6 faces of each block has a printed panel on them.
Seal blocks with a sealer ie. Mod Podge, Decoupage paste, spray sealer etc.
After the blocks were assembled and sealed, I added a little German Glass Glitter to some of my images by dabbing on some white glue and then sprinkling the glitter over it.
It's a small and easy project, but one that can add a vintage touch to your holiday vignettes. I'll be sharing how I used mine in my Christmas Home Tour in December.
You may also like my other Christmas block project… tutorial is HERE.
Happy Christmas crafting,
Kerryanne
Hugs
♥
Kerryanne
I'd love for you to connect with me at:
Follow on Bloglovin
or if you'd like my posts delivered directly to your Inbox
Subscribe to Shabby Art Boutique by Email
If you'd like a private pass to all things 'shabbilicious, sign up today for my fortnightly newsletter. It contains personal stories, sneak peeks, recommendations, discounts and freebies.