Today I've joined 25 bloggers for 'The Scoop on Creating a Handmade Christmas'.
I first used the Christmas township candle jars as a table decoration for a Christmas dinner party.
It is one of those projects that is super quick and easy, but gives spectacular results.
If you've been following along with my 4th annual Simply Christmas event you already know that handmade is my 'thing'.
Simply Christmas runs for 8 weeks from 1st November through to Christmas Eve every year at Shabby Art Boutique and celebrates putting the homemade and home baked back into the holidays.
With just basic supplies, you can makes these Christmas candle jars that look amazing when illuminated at night.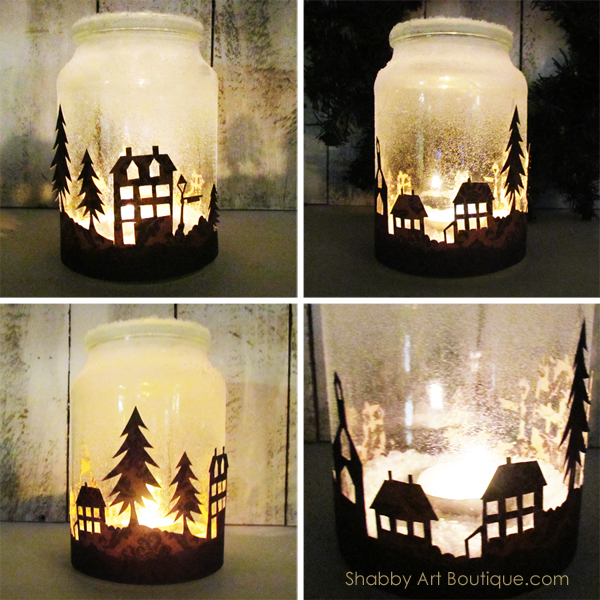 One of the things I love most about handmade items is their uniqueness.
No one else will have exactly the same piece… even if they follow the exact same instructions. This is definitely one of those projects.
For your convenience, I have added affiliate links to some of the supplies I used.
Here's what you'll need:
A clean empty jar. I've used coffee jars and mason jars.
1 piece of dark coloured scrapbook paper… mine was a charcoal grey.
Template – download HERE
Other supplies: paper, pencil, ruler, craft knife (or scalpel).
Epsom Salts and clear glue.
1 x light source – tea light candle, battery operated candle or battery operated fairy lights.
Note: Although I have a Silhouette machine, I chose to hand cut my townships and made different townships for all of my jars. If you have a cutting machine you may prefer to use that to cut the design for you.
Instructions:
1. Start by measuring the circumference of your jar. Mine was 30 cm, which is the width of a piece of scrapbook paper.
2. Determine how high you want your township to extend. My highest point is 9 cm high.
3. I sketched my township onto the paper, creating a skyline of several different houses and trees.
4. Cut out the silhouette with a sharp craft knife (or use a Silhouette machine). Allow an extra centimetre at one end to use as a tab to glue the two ends together. Put the cut-out aside until you prepare the jar.
5. I sprayed the top third of the outside of the jar with a light misting of Santa Snow. When it was dry, I applied a bead of clear glue around the top of the jar and sprinkled with Epsom Salts. This made it look icy.
6. Place a tea light candle or battery operated tea light candle in the base of the jar and then fill the remainder of the base around the candle with Epsom Salts. The Epsom Salts look like snow!
8. Wrap your township silhouette around the outside of the jar and glue the two ends together.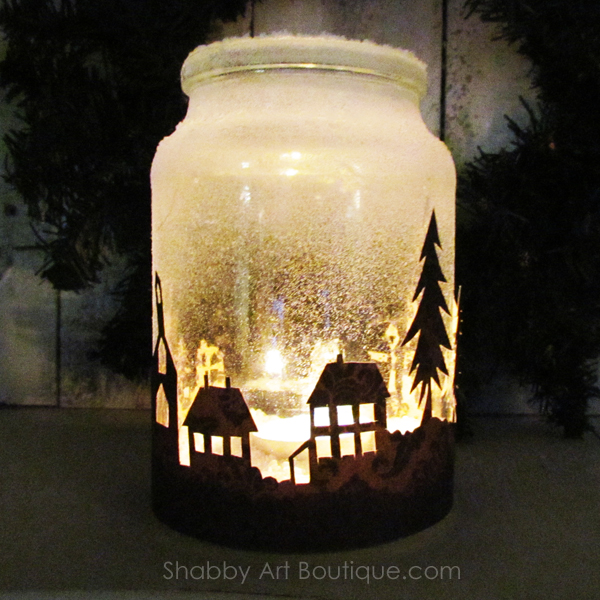 The amount of detail you include on this project is limited only by your imagination and your cutting skills.
I kept mine fairly simple as I needed to make quite a few of them.
If you'd like to see more of my handmade Christmas projects, please visit my 'Tutorials' page.
[PIN for later]

You may also like:
my hand painted Christmas Candle Jar
or my Halloween Candle Jar tutorials.

Happy Christmas crafting,
Hugs – Kerryanne
I'd love for you to connect with me at:
Follow on Bloglovin.
If you'd like a private pass to all things 'shabbilicious, sign up today for my fortnightly newsletter.
It contains personal stories, sneak peeks, recommendations, discounts and freebies.
These fun Christmas Tags are free to download for all Newsletter Subscribers.

Please join me for the 8th Annual Simply Christmas event on my blog
from 1st November to 24th December.
---
Additional Note August 2016: Unfortunately, my old images from this post and the whole Christmas Township Candle Jar tutorial shown here were used without my permission by another website (diyandcrafts.com) in 2014. I brought the breach of my copyright to their attention 2 years ago and asked them to remove the tutorial from their site. They did not!! I have had to fight this legally to finally have my copyright protected material and tutorial removed from their website and from Pinterest in 2016. If you pinned the old image and it has subsequently been removed by Pinterest, please feel free to PIN the real pinnable image shown above.
Please support handmade artists and crafters by NOT promoting and using unscrupulous websites that steal content, just so they can make money from advertising on their site. Thank you!