When I was designing the Woodland Whimsy kit for the Handmade Club this month, I wanted to give the theme a bit of a pastel, shabby feel.
I find the usual array of woodland themes to be dark and moody and a bit… well, beige (not that there is anything wrong with that), but I'm a pastel loving, shabby at heart kind of girl and when I think of the woods and fall, I see it in hues of shabby pinks and burgundy.
Throw in a little fairy magic as well and you have yourself a beautiful, enchanted and whimsical woodland theme.
One of the projects I decided to make this month with the Woodland Whimsy kit was a Fairy Journal for little girls…. (or maybe big girls too)
Although I didn't know exactly what that was going to look like, I was inspired by an interactive book my girls used to read at their grandparents house when they were little. Even though they had read that book a million times, they always wanted to sit on their pa's lap and read the book and be involved with the story.
So I knew that I wanted this journal to be both interactive and tactile…. it needed layers and texture…. parts that move… and things that were hidden.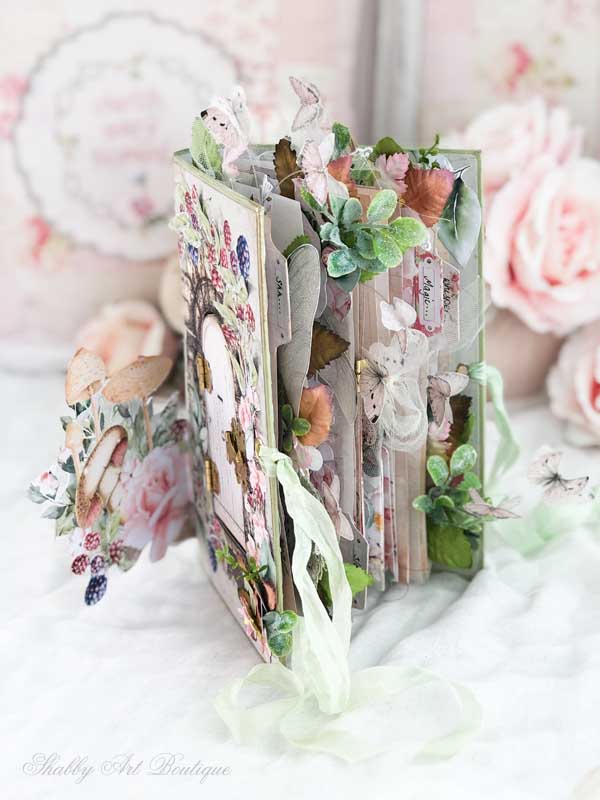 What I created was a journal made using the hard cover from a vintage book that measured 8" x 4.5". It has 3 signatures printed on silk paper and velum inserts.
Right from the start you just know it is going to be quite magical, as you open the fairy door hidden in amongst the berry vine.
Through the fairy door to the inside cover, which is a forest collage made from water colour leaves… and the journey begins!
The story leads you through the forest looking for fairies…. but at first, they are very well hidden.
There are lots of three dimensional pages that have layers of foliage and flying butterflies… and even a few fairy wings!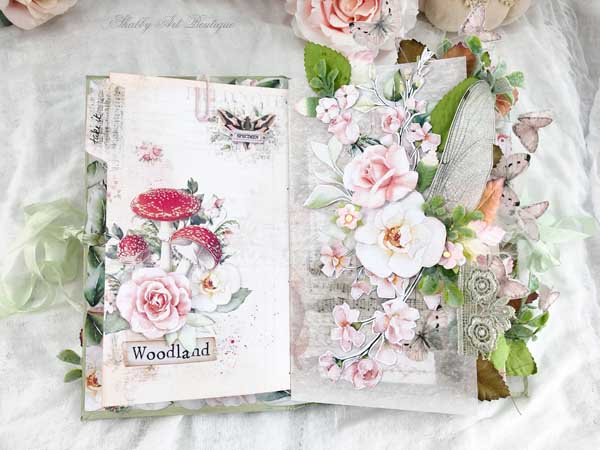 Some pages have pockets and tuck spots too… maybe for a secret letter left for the fairies or a place to journal.
But what about the fairies that are hiding….
If you look carefully behind flowers and toadstools and open any movable tabs, you're bound to find a few fairies!
Then, when they get used to you they come out to play and are found frolicking on every page.
These are just a few of the pages in my Fairy Journal, so if you'd like to see the rest and find out how I made the flying butterflies, I have a quick 5 minute video on my YouTube channel. Don't forget to subscribe to my channel while you are there, so you don't miss future videos.
Woodland Whimsy Kit
The September kit, Woodland Whimsy will only be available for another 2 weeks, so if you'd like to find out what is in the kit, visit this post here.
To find out more about the Handmade Club, visit this page.
Bonus Files
I made an A4 PDF print file when I was creating this fairy journal and I have uploaded it to the September Handmade Club files today, should anyone wish to use it. This is not a tutorial and it is only in A4 size (which is what I use), but you are welcome to use it.
Happy crafting,
Hugs
♥
Kerryanne
Let's be friends on….
Get instant access to the free printables in my Newsletter Printables
Library by joining my email newsletter subscriber's list.
I send out a weekly newsletters with updates on all things
'shabbilicious' at Shabby Art Boutique.
I invite you to join our fabulous and friendly
Facebook group – Simply Shabbilicious
where you'll enjoy our friendly banter and inspirational creativity.