Although you may not be decorating for Christmas just yet, now is the time to start preparing, making, creating and ordering ready for December!!
Even though I love to make my own decorations, I appreciate that sometimes working ladies just don't have enough spare hours to do it all…..
That's why I've popped off to my favourite handmade store, ETSY and picked out my favourite handmade 'shabbilicious' Christmas wreaths for you.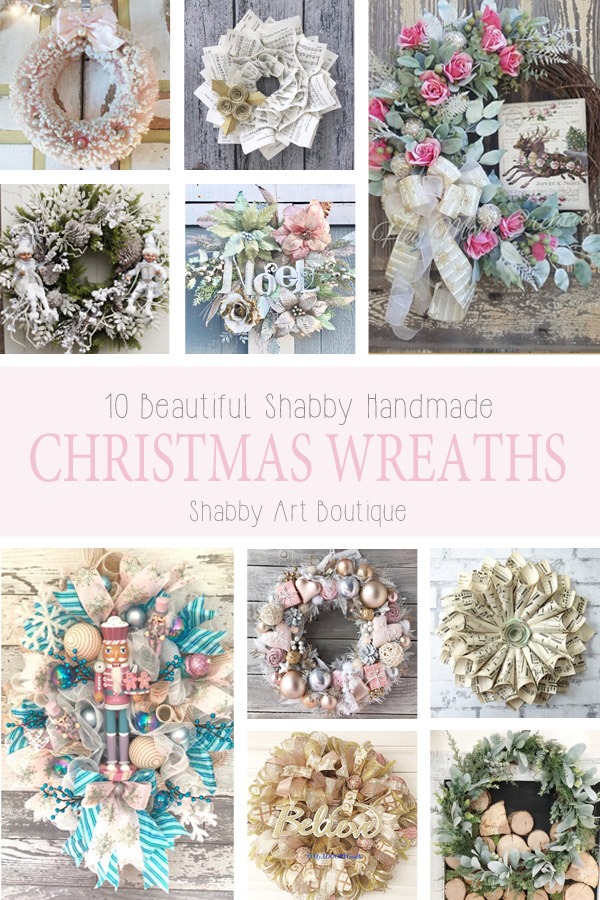 If you order now, you'll receive a beautiful wreath in time to hang it on your front door for the festive season.
And it doesn't matter whether your shabby decor is white, neutral or pastel, I've got you covered here. I've provided my affiliate link to each gorgeous handmade store….. so let's go shopping!!
10 Beautiful Handmade Shabby Christmas Wreaths
[for when you can't make it yourself]
How elegant is this gorgeous handmade 15" blush and gold wreath from
Belove Decor Shop!!
…and I totally love it in the soft green and silver version too.
If you love paper wreaths, how about a simple holly hymnal wreath in ivory and gold from
The Ruffled Page.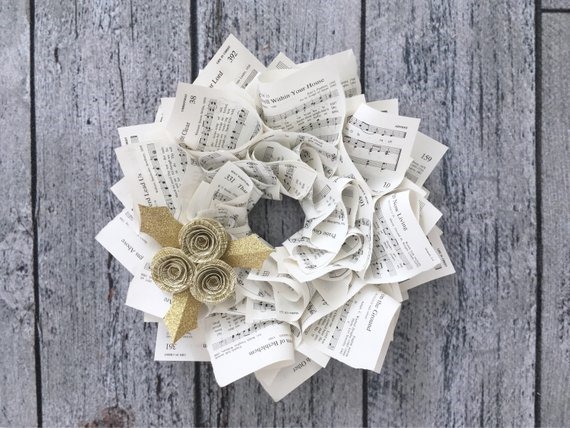 This one might be a little pricy…. but are you swooning for this authentic vintage
50's pale pink and cream bottle brush wreath from Polkadot Rose?
For something slightly unique and shabbiliciously eye-catching, I'd be choosing
a whimsical Nutcracker wreath from Lola Gets Crafting.
For a larger size wreath, I've chosen this 27" cheeky white elf Christmas wreath
from Busy Bee Flower Shop. Those little elves are too cute!!
When you need a little glam, you can't go past metallics and this
NOEL wreath from Aesthetic Delights is both pastel and glamorous.
I adore the antique music book reimagined as a Christmas wreath from Lucy Birdy.
This would fit with most colour schemes too!
Roses will win my heart every time and this one could be adapted for use throughout
the year. This 18" Victorian wreath is from Hey Mom Creations.
Keeping it simple with this winter eucalyptus and lamb's ear wreath from
Emerson and Belle. You could even add a pretty bow if you wanted more pizazz.
Rounding off our shopping trip with this stunning rose, champagne and gold ribbon
wreath from My Adoorable Wreaths.
Isn't shopping together fun!!
Just remember…. making unique handmade items is super fun, but sometimes you have to recognise your limitations.
For those times when you don't have time to make it yourself, buy handmade from an artisan and help their small business survive… it's a win, win!!
I hope in the next couple of days to have my Christmas items listed in my Etsy store too.
Happy festive crafting,
Hugs
♥
Kerryanne
I'd love for you to connect with me at:
Follow on Bloglovin
or if you'd like my posts delivered directly to your Inbox
Subscribe to Shabby Art Boutique by Email
If you'd like a private pass to all things 'shabbilicious, sign up today for my fortnightly newsletter.
It contains personal stories, sneak peeks, recommendations, discounts and freebies.