One of the fun and creative things I enjoy doing at the start of every year is putting together my annual planner.
For me it seems to be the best way to keep my busy life organised.
Originally I had several different planners that I used for work, my blog, home etc, but last year I condensed everything into the one folder to make life simpler… and it worked perfectly.
Being a creative person, I like my planner to be pretty and inspiring.
I fill it with motivating art work, colourful stickers, dividers and all sorts of embellishments.
This year I am sharing it all with you.
The free printables to create your planner will be available all this week….
Then next week I'll be sharing fun tutorials and activities for putting your planner together… plus I'll be sharing mine with you!
Throughout the year I will add more fun printables for the changing seasons and holidays.
There will be lots of different printables, but you may not want to print them all. I will be grouping them into separate files, so you can choose which ones you wish to download and print.
They will be available on my Boutique website all year, so you can easily find them when you want to print them out.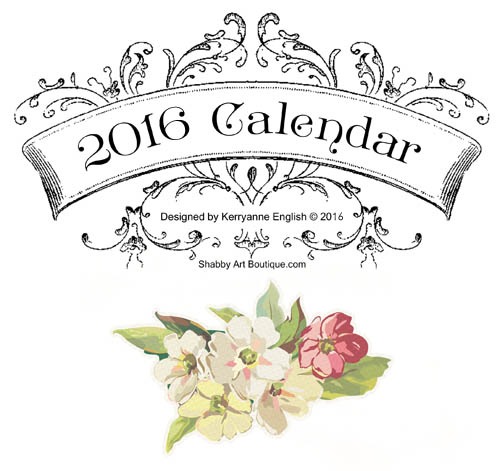 Todays free printable is the 2016 vintage calendar. There's a page per month and all have my usual vintage Victorian theme.
You can download it from HERE
Next week I'll be sharing with you how I put my own planner together.
I'll be back tomorrow with the next set of printables.
Happy crafting,
Kerryanne
You can sign up for my fortnightly newsletter HERE
I'd love for you to connect with me at:
Follow on Bloglovin
or if you'd like my posts delivered directly to your Inbox