As you know, I'm a big advocate for homemade, home baked and home grown.
I think our grandmothers had it right when they used their basic home recipes and everyday items to make natural cleaning products. I love them and find these recipes a better option for my family who have asthma and allergies.
If you are looking for an alternative to harsh chemical cleaners, then you simply must give these old fashioned recipes a go.
Grandma's All Purpose Cleaner
Into a spray bottle, pour 1 teaspoon of bicarb soda, ½ teaspoon grated soap and 2 tablespoons white vinegar. Shake and then let it sit for a minute or two. Fill the remainder of the bottle with warm water and shake again. Rest for a few more minutes then add a few drops of essential oil. I like to add Lavender, Lime or Eucalyptus oil.
Grandma's Bathroom Cleaner
Into a jar or tub, combine 3/4 cup bicarb soda, 1/4 cup liquid soap, 1 tablespoon white vinegar and a few drops of essential oil. Stir to mix. Apply mixture with a cloth or sponge. Rinse well afterwards.
Grandma's Window & Glass Cleaner
In a spray bottle, mix 3/4 cup white vinegar and 1 cup of warm water. Use to clean glass, windows and mirrors with a soft dry cloth.
Grandma's Floor Cleaner
Into your bucket of warm water, add ½ cup white vinegar and a few tablespoons of Eucalyptus oil. Wash floors with mop.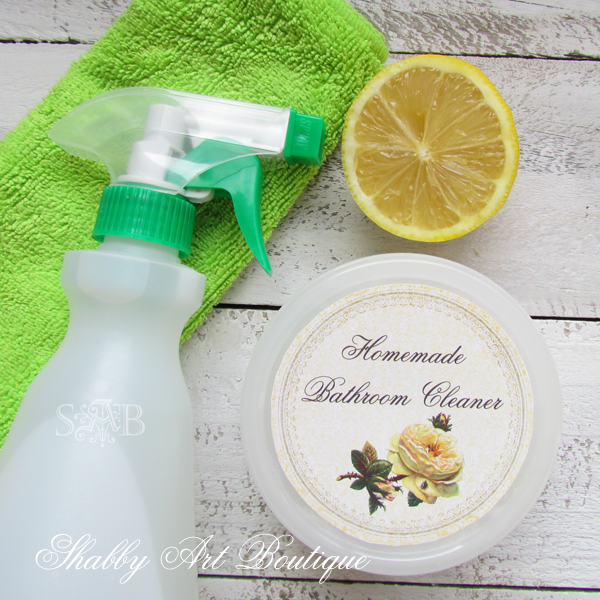 Here's why these natural ingredients are so effective. . .
Vinegar cuts through grease and soap scum, dissolves mineral deposits, stops mould and kills 99% of bacteria, mould and viruses.
Coarse salt scours and disinfects.
Bicarbonate of Soda cleans, deodorises and scours.
Essential oils like Eucalyptus, Lavender and Lemongrass freshen and disinfect.
Fresh lemon will degrease, remove stains and freshen.
I'm sharing my Grandma's cleaning recipes at this week's link parties and with these friends: Inspiration Exchange, Live Laugh Rowe, The DIY Dreamer, Tutorials, Tips & Tidbits – Stone Gable, Blissful White Wednesday at Timewashed, Transformation Thursday, French Country Cottage, The Vintage Farmhouse, 36th Avenue, Be Inspired Friday at Common Ground.
You can connect with me at the following places. . .