It's time for Shabbilicious Sunday once again.
Each week in this series I share with you a visit to a home of one of our 'shabbilicious' friends, but today we are visiting several.
Traditionally, this is the week many people start decorating their homes for Christmas; whether that be after Thanksgiving or leading up to December 1st.
So… it seemed the perfect week to take in a few Christmas home tours to gain some gorgeous holiday inspiration. Remember to look at all the little vignette details, colour schemes/combinations etc… and don't forget to PIN from the blogs you visit.
I think you'll find there is something for all of our shabbilicious tastes today; shabby, vintage, cottage, Scandinavian and Farmhouse.
Janet has used a beautiful pastel and white palette in this
Christmas bedroom at Shabbyfufu.
She also shares great tips for repurposing an aging white tree.
Known for her lovely white decor, Kris at Junk Chic Cottage has a serene, white Christmas tour of her home from last year. Of course, she now has a new home and we look forward to seeing it dressed for Christmas in the coming weeks.
Jennifer's beautiful home at Town and Country Living has lots
of vintage farmhouse charm. This delightful tour takes you
through many rooms with lots of great decorating tips.
At Chateau Chic, Mary Alice's home has a lovely French vintage feel.
I particularly love the way she constructs her vignettes around her vintage finds.
When we think Scandinavian, we can't go past Vibeke's gorgeous home at Vibeke Design. I highly recommend reading all of her 2015 December posts!!
While in the region, pop over to visit Yvonne at Villa Koenig
for this tour of her Christmas kitchen.
For a sweet cottage filled with GreenGate and Maileg, we must visit Susi Rydahl.
I always enjoy her cottage mix of reds and blues at Christmas time.
Tamsyn Morgans Victorian home is an eclectic mix that incorporates vintage and cottage elements… and it is always beautiful and inspiring!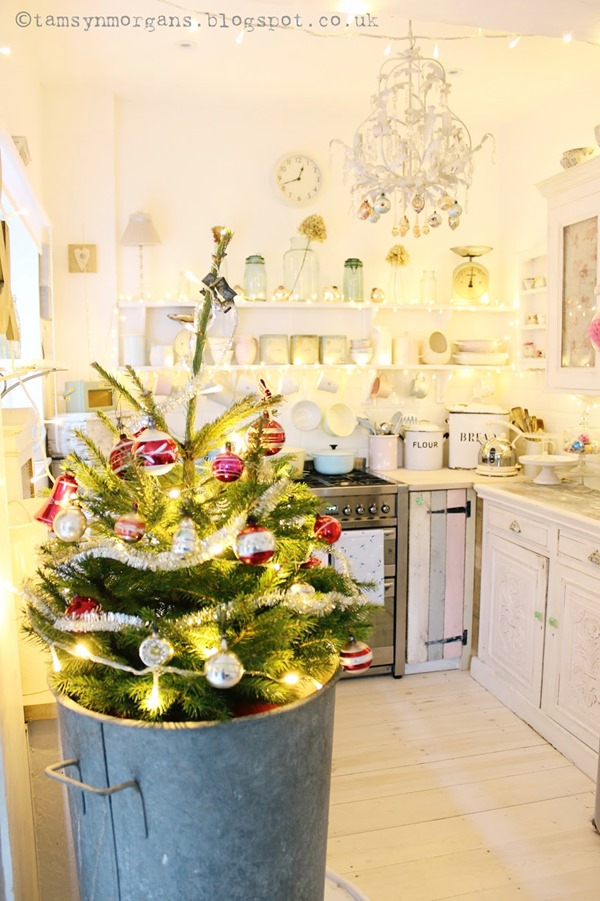 Kristen sticks to a classic Christmas style instead of following trends when decorating her beautiful vintage infused, farmhouse style home at Ella Claire.
Everyone of these homes is truly gorgeous and full of festive inspiration.
I hope you enjoy visiting them as much as I did.
If you enjoyed this edition of Shabbilicious Sunday,
you may like to check our the previous home tours on my
Festive wishes,
Kerryanne
I'd love for you to connect with me at:
Follow on Bloglovin
or if you'd like my posts delivered directly to your Inbox
Subscribe to Shabby Art Boutique by Email
If you'd like a private pass to all things 'shabbilicious, sign up today for my fortnightly newsletter. It contains personal stories, sneak peeks, recommendations, discounts and freebies.
Plus, you will also get these sweet
Victorian Christmas Tags to download and print.
Sign up for my newsletter HERE and don't forget to confirm the sign up email.