While technology has made everyone's lives easier…
There are still some of us that like to plan on paper, write things down… and be inspired by beautiful things.
So, today I have my free 2017 planner and calendar bundle for you to download.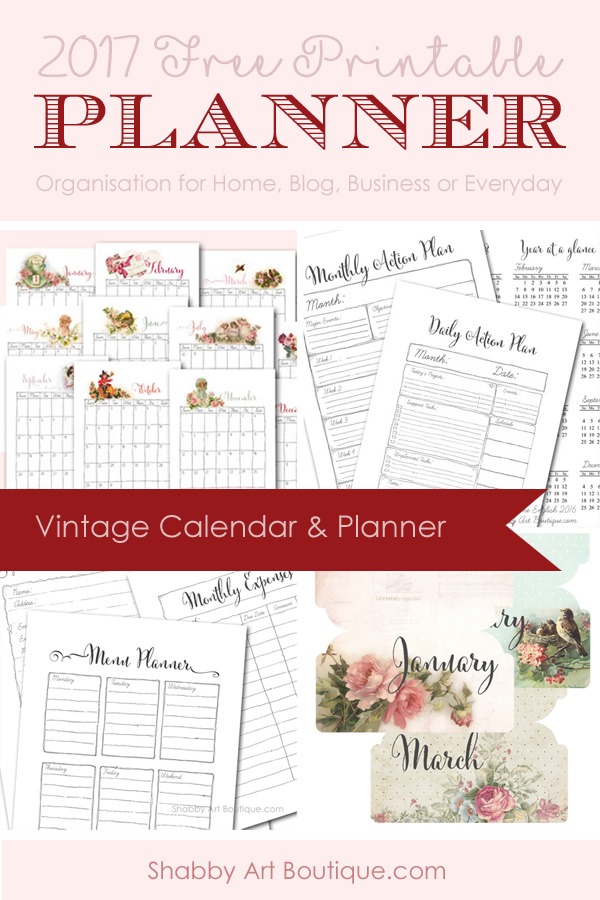 You may have downloaded many of these pages last year and most of those printables are still relevant for 2017.
You can download the 2017 Vintage Calendar here.
Printable number one is a month by month birthday and anniversary calendar.
The calendar is perpetual, so you can keep using it year after year.
The second one is four home printables that can be printed as often as you need them. You may even like to laminate the Menu Planner for use in the kitchen.
Next up is a year's worth of planning with monthly, weekly and daily action plans.
I've also included printables designed specifically for bloggers.
This is what I use in my planner to organise my blog throughout the year.
I made these pretty vintage divider tabs to separate each month in my planner.
You can download the monthly divider tabs HERE.
Find out how I made them on this post.
Here's a handy tip for printing your action plans:
I print off the monthly and weekly planner sheets on 200 gram A4 paper. It is more than double the thickness of normal printer paper and quite sturdy for use in your planner.
For the Daily Action Plan I print just one copy and laminate it. I can than use a whiteboard marker to write on it each day and erase for re-use the following day. I tend to keep my daily action plan on my desk, rather than in my planner.
If you make a planner using my printables, I'd love to hear about it.
You can see my planner HERE.
Happy crafting
♥
Kerryanne
I'd love for you to connect with me at:
Follow on Bloglovin
or if you'd like my posts delivered directly to your Inbox
Subscribe to Shabby Art Boutique by Email
If you'd like a private pass to all things 'shabbilicious, sign up today for my fortnightly newsletter. It contains personal stories, sneak peeks, recommendations, discounts and freebies.