Welcome to Shabbilicious Sunday….
Each week in this series I share with you a visit to a home of one of our shabbilicious friends. What could be better than to take a tour around their home, have a chat and get to know a little more about them.
Today we are heading to Switzerland to meet Olivia from Handmade by Nimoeh.
Olivia lives in Winterthur, Switzerland, which is near Zurich.
Her home is decorated in a Scandinavian cottage style and is filled with her two loves; GreenGate and Tilda.
\
Olivia's handmade items fill every corner of her beautiful pastel themed home. She says "I love to add character to my décor with details like small handmade things, cushions, plaids and pretty colours. I would love to change it around everyday if I could!"
A lot of Olivia's furniture has been picked up off the streets in her district, or sometimes people bring her old furniture that she can make-over.
Asked if she had a favourite piece, Olivia said "My favourite furniture pieces are our chairs, they are more than one hundred years old. Also my sewing table, which is from the 1930's. I LOVE furniture that has a long history!"
I asked Olivia what is her best decorating advice? She wasn't sure that she could advise others, but did say "If you are inspired, give it a try. If YOU like it, its fine".
The furniture on Olivia's balcony was all handmade by her husband and his father, using very old wood and based on Olivia's ideas.
Olivia has a shop where she sells her handmade goodies. You can visit Handmade by Nimoeh HERE.
You can also connect with Olivia on Instagram, Facebook – Shop Facebook – blog and follow her journey on her blog, Nimoeh.
Thank you Olivia for sharing your beautiful Scandinavian style cottage with us today for Shabbilicious Sunday.
[Affiliate links have been provided for your convenience]
There are a many books written by Norwegian designer Tone Finnanger. All of them contain whimsical and pretty designs to enhance your home décor using a subtle colour palette and pretty cottage fabrics.
To see a search of all of the books written by Tone Finnanger, click this link for Book Depository (has free worldwide postage).
You can also see my book reviews on Tilda books here, here, here, and here.
If you enjoyed this edition of Shabbilicious Sunday,
you may like to check our the previous home tours on my
Happy Sunday my friends,
Hugs ~ Kerryanne
I'd love for you to connect with me at:
Follow on Bloglovin
or if you'd like my posts delivered directly to your Inbox
Subscribe to Shabby Art Boutique by Email
If you'd like a private pass to all things 'shabbilicious, sign up today for my fortnightly newsletter. It contains personal stories, sneak peeks, recommendations, discounts and freebies.
Plus, you will also get a free copy of my eBook, 5 Tips for creating a Shabbilicious Home.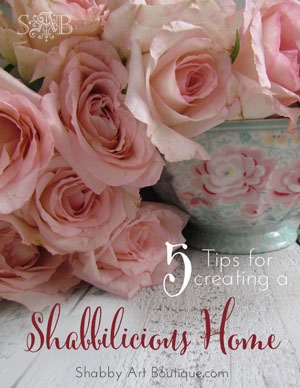 Sign up for my newsletter HERE and don't forget to confirm the sign up email.