Welcome to Shabbilicious Sunday!!
Today, Mary Alice of Chateau Chic has opened the doors of her 1850's cottage so we can take a wander around. As we meander through her cottage rooms, be sure to check out all her fabulous collections, which include everything vintage French, white ironstone, vintage mirrors, French prints, and architectural pieces.
Back in November last year, Mary Alice and her hubby embarked on a new adventure that involved selling their home and relocating out of Virginia (US). To make their transition a bit easier, they decided to rent for a year…moving from a 3700 square foot home to a 1300 square foot cottage.
As these images will show, Mary Alice has managed to create a beautiful cottage filled with simple vintage style and an emphasis on French, which she is renowned for.
When Mary Alice stepped foot into the sunroom of this house, which was originally a barn built in 1850, she knew she was "home."
With a new to them, old cottage to fill with gorgeousness, Mary Alice set about finding new places for her collections and creating a home.
She has a love of vintage mirrors and uses them extensively throughout her home. Their worn vintage frames and wonderfully aged mirrors add so much charm to her decorating.
Downsizing can have unforeseen challenges, especially when there isn't a lot of cupboard space in a small kitchen. Mary Alice overcame this by using a tall open shelf for storing dishes and serving pieces that she uses every day.
From the kitchen we step into the dining room…
and on to the living room….
Asked if she had a favourite piece of furniture, Mary Alice said it was hard to choose just one piece, but if she had to, it would be her vintage living room mantel.
Asked for advise on decorating, Mary Alice says "I agree with the advice of staying true to oneself. Stick with colors and styles that you love, and you'll never go wrong because there is no such thing as wrong when it comes to decorating our own homes".
Mary Alice loves hunting for unusual and fabulous vintage finds and it is these very pieces that set her home apart from others. Her blog Chateau Chic is definitely one worth following.
You can connect with Mary Alice on Instagram, Twitter and Pinterest
Get the look: Mary Alice has achieved her gorgeous vintage French décor look using carefully selected vintage finds, mixed with French accent pieces. Thrift, antique and online stores offer a variety of eclectic pieces that you can mix and match to create your own cottage style.
An easy way to start, is to tuck pretty décor items in amongst your existing pieces. For your convenience, I've given some examples below with affiliate links.
1. Chateau Mirror 2. 6" Pewter clock, 3. French Perle Pitcher 4.French rabbit & grainsack pillow 5. French Accents book by Anita Joyce
If you enjoyed this edition of Shabbilicious Sunday, you may like to check out Vibeke Design and Meegan Makes.
Happy Sunday my friends,
Hugs ~ Kerryanne
I'd love for you to connect with me at:
Follow on Bloglovin
or if you'd like my posts delivered directly to your Inbox
Subscribe to Shabby Art Boutique by Email
If you'd like a private pass to all things 'shabbilicious, sign up today for my fortnightlynewsletter. It contains personal stories, sneak peeks, recommendations, discounts and freebies.
Plus, you will also get a free copy of my eBook, 5 Tips for creating a Shabbilicious Home.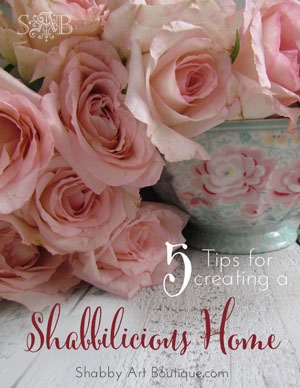 Sign up for my newsletter HERE and don't forget to confirm the sign up email