Sometimes you have to get your hands dirty…
Splatter some paint around,
Create with absolute abandonment,
And trust the process…. to find the right path!
I started work on this canvas quite some time ago.
I had an idea of where I was intending to go with it. I knew it was a piece for my girls to go in the guest bedroom. I had planned the colour palette and created a background with ripped pieces of paper, but then it was put aside for another day.
Finding time to work on a piece for my own collection had eluded me….
But then I had a bad day… a trying and completely frustrating day!
The host company of our business website was hacked yesterday, which meant that all of their clients were affected. We've lost our website and email system…. completely!
Our business came to a screeching halt just days away from Easter and school holidays. I felt all kinds of things… angry, frustrated, stressed, but continued on throughout the day dealing with various companies to try and get our crippled business up and going again.
Then at 5 pm all the companies closed for the day and suddenly everything was hanging in limbo waiting for the open of trade again the next day. Seriously… didn't these people know I was facing a crisis!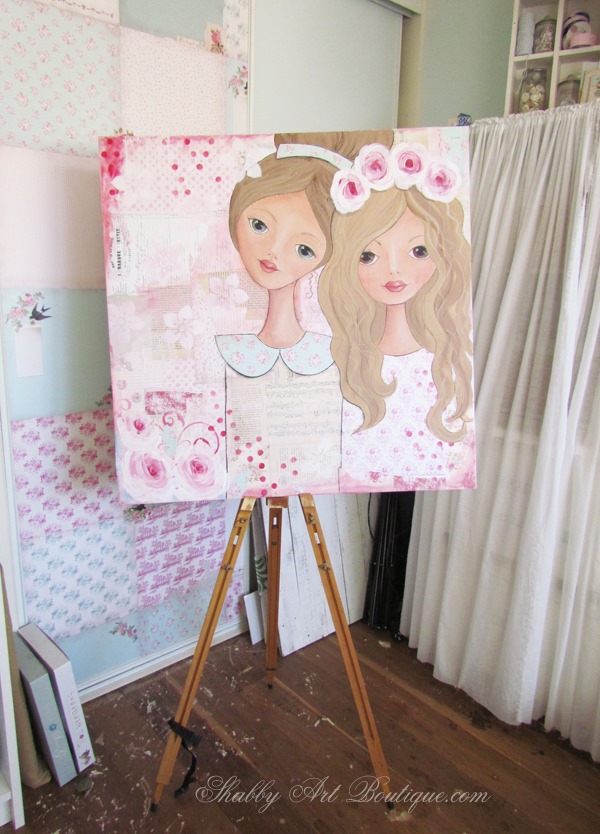 At that point I had two options…
Lay down and cry… or head to my craft room, my happy place!!
I chose the fun option; a quiet reflective mediation, serene music, the wafting scent of white sage incense and time alone to regroup and gather my thoughts.
Painting with my fingers, ripping paper, gluing, splattering, drawing… all therapeutic actions and good for my soul.
I rarely paint in my craft room at night because the lighting is not perfect, but on this occasion I was completely lost to the process and worked until late.
It felt good.
All my stress dissipated. I felt ready to tackle the next day… and I did.
Today could have been more of the same, but I decided that things would work out one way or another and they kind of did. Although we haven't resolved our internet issues completely, I kept it all in perspective (and didn't kill anyone!!).
This artwork is not finished yet. It's hanging on the wall in the guest room where I can evaluate it and make some changes. I never varnish or seal a piece until I'm sure it is complete.
There's almost always something that stands out when you give it time. One thing I like to do is look at the piece in the mirror… it gives you a whole different perspective and usually pinpoints what it is that doesn't feel/look right.
On a side note, the papers I used in this piece are from Tilda and I'm currently making a quilt for the bed in the matching fabrics. Sadly, this beautiful Tilda collection has been retired from their range.
Sometimes you just have to trust that everything will work out okay!
Happy crafting,
Hugs ~ Kerryanne
I'd love for you to connect with me at:
Follow on Bloglovin
or if you'd like my posts delivered directly to your Inbox