I'm feeling some hydrangea love today.
We have many hydrangea bushes scattered around our gardens…
In many different colours ranging from white, pink, greens, blue through to mauve.
One of the bushes has gorgeous ivory blooms, which are my favourite to pick and dry.
The flower heads start off as a pale green and turn a soft creamy colour as they mature.
I don't usually pick them until they have already turned cream, because that is when they are perfect for drying.
But, I couldn't resist picking this large Hydrangea head today because the green head was dappled with pinks.
It was so different and perfect to brighten up my work bench in my craft room.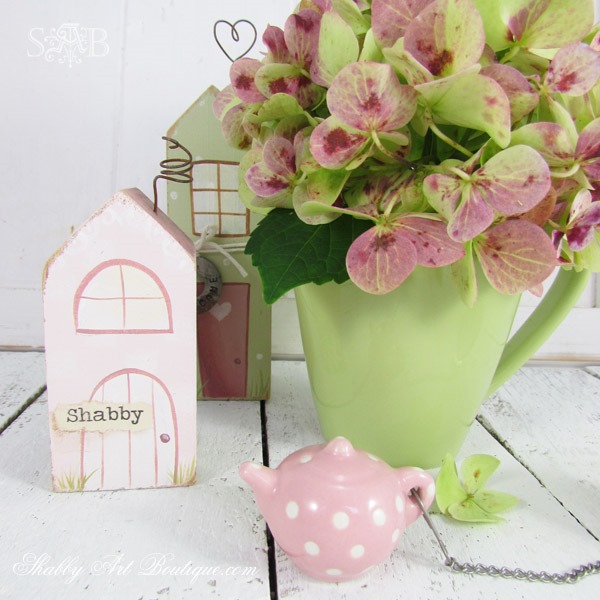 So I'm embracing pretty pinks and greens this week… and shabby little wooden houses too.
Have you seen my tutorial for how to make your own wooden shops and houses?
I'm doubtful that I will be able to dry this pink and green flower head because the flowers are so new. They need to feel slightly papery before you pick them if you intend on drying them in the vase.
You can see my post for 'How to dry Hydrangeas' HERE.
I will leave this bloom in the vase to see if they do dry, but even if they don't, I will still have the pleasure of them for a couple of weeks. I wonder if I'll get anymore of these dappled pink hydrangeas on this bush.
I couldn't resist sharing this image of Miss Milly hanging out in the background, while I photographed the hydrangea today.
She's looking a bit scruffy and grey at the moment, but she is off to the beauty parlor at the end of the week.
Happy crafting ~ Kerryanne
You can sign up for my fortnightly newsletter HERE
I'd love for you to connect with me at:
Follow on Bloglovin
or if you'd like my posts delivered directly to your Inbox