When does the new year start for you?
For me, it's the day that I take down my Christmas decorating…
Which happens to be today!
Now I can think about 2015 and all that it holds for me.
Do you get excited about a new year too?
I already have several projects underway for the early part of the year and there's one very exciting one that I can't wait to share with you. It's also something totally new for me, so it fills me with anticipation for the coming year.
Some people start the year with a New Years Resolution…
Others have a focus word for the year.
My word for 2014 was Balance… which I was semi-successful at last year. Having the focus word did help me to remember to find the balance in my life.
This year I've chosen…
Sometimes when life gets super busy and 'out of my control' I get weighed down with the negatives and lose focus on the good things.
I hope by being mindful of all the things I'm 'thankful' for in 2015, that the positives will always outweigh any negatives in my day.
To keep track of my daily list of thankful thoughts, I made a gratitude journal using a year planner and a handmade fabric book cover.
You can see my tutorial for making fabric book covers HERE.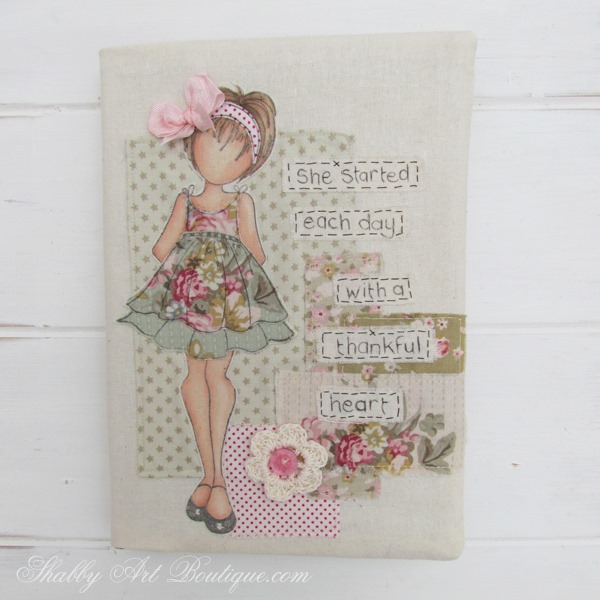 It's my intention to write something every day… and to reflect on the good things that come my way.
I know a few of my friends are also doing gratitude jars, where you write something you are thankful for on a piece of paper and put it in the jar each day. At the end of the year the jar can be opened and all the entries read.
It feels like such a positive thing to be focusing on and allows us to celebrate even the smallest things in life.
I'm going to start today by recording that:
I am thankful for the amazing people I've have met through blogging.
I am thankful for their kind and supportive comments.
I am thankful for the blogging communities we form and for the generous spirit in which we all share our knowledge.
I'd love for you to connect with me in other places too:
[click on any of the icons below]
Follow on Bloglovin
or if you'd like my posts delivered directly to your Inbox