This week I've been showing you around my creative space.
You can see the previous days HERE and HERE.
So come on in and see the rest of my craft room.
The gorgeous embroidered bag, which is holding a vase of tulips this week, was made for me by my lovely creative friend Kris of Tag Along Teddies. It's actually my sewing bag, but it is reassigned to other duties this week.
There's another very special handmade bag hanging on one of the shelf units. You get a look at it in part 2 of the tour. It was made for me by my gorgeous long time friend Vikki from Sew Useful Designs. Vik designed and made it for me when I was leaving Melbourne to live up here on the mid north coast. It is a shoulder bag that contains a sketch pad and graphite pencils. To this day is is still my sketch bag and is always packed ready to head off on an outdoor sketching adventure.
Having these handmade gifts and other beautiful creations like my art journals made by my friend Anna, fill my craft room with inspiration. I appreciate the creativeness and talent of my friends and think of them often while creating.
As you can see, one wall of my room has half windows right the way across.
They face south, so there's no direct sunlight in this room, which is a good thing when you live in a warm sub-tropical climate.
My craft room is on the second level, which makes it nice and private too.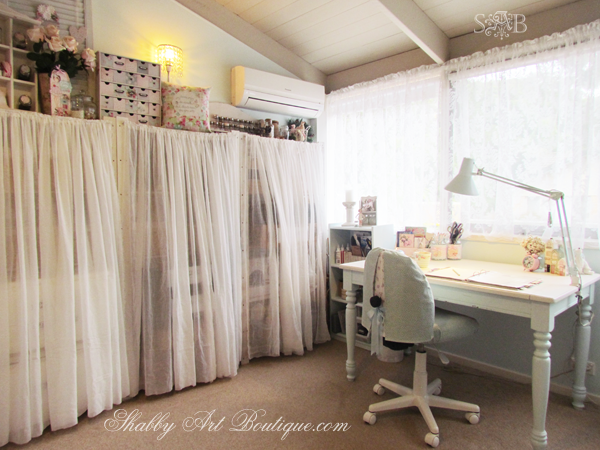 This is the wall I showed you in part 1 of the tour.
The view out through the door gives you an indication of how lofty the ceilings are. That's an open space over the first level that you can see past the landing.
Looking back the other way you can see the west facing wall with more storage area. The shelf unit holds my favorite magazines and books. I had 3 of these for magazines in my old studio, so I have had to purge and cull my collection.
The cupboard holds my paints, palettes and brushes.
Once again, I've utilized all the available space above and on my storage units.
I love having my desk in front of the window, so I can access the natural light.
This desk is my original one that used to be black…. it's now a matching soft aqua that is more fitting with this room.
After everything was repainted, my black chair just didn't fit in… it was too harsh amongst all this pastel prettiness, so I pulled it apart and painted it white, recovered the chair base and made a matching slip cover for the top half.
I'm loving having more time again to spend my days in my craft room.
Being creative is what makes me happy…
And would you believe, I'm currently working on Christmas 2014!
I've enjoyed showing you around my creative space this week. If you missed the other two days you can catch up here and here.
I'm sharing my craft room tour with these friends this week:
Inspiration Exchange, The DIY Dreamer, The Scoop, Project Inspired , French Country Cottage, Be Inspired Friday at Common Ground, Sundays at Home.
I'd be thrilled if you'd like to connect with me at the following places. . .
Follow on Bloglovin
or if you'd like my posts delivered directly to your Inbox
Subscribe to Shabby Art Boutique by Email
Shabbilicious hugs ~ Kerryanne