A New Year is like a fresh start.
It's a time to reflect on the past, make plans for the present and dream about the future.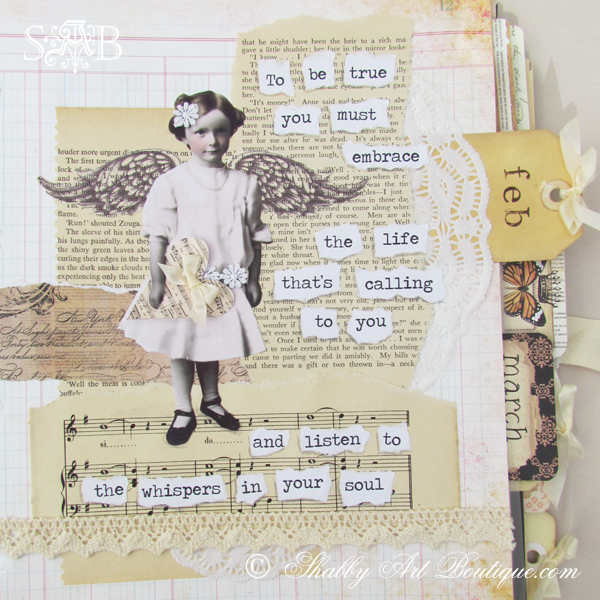 [SAB – Vintage Creativity Planner]
Remember last week I told you that my word for 2014 is 'Balance'. . . .
Well, I've started implementing changes in my life to facilitate that BALANCE
For over 22 years Woodberry Designs has been my creative business. . . then along came my blog, Shabby Art Boutique in 2007 and soon it became an integral part of my business too.
Over the past few years the online landscape has changed and now businesses are all about SEO's, statistics/analytics, advertisers, sponsors and social networking.
There seems to be a lot more technical stuff and a lot less of the creative stuff that was FUN.
[SAB – Vintage Creativity Planner]
Our life changed quite dramatically last year when we moved to the Resort. It is now our main source of income. Our working hours are unpredictable and sometimes long. . . and it's very much a day-to-day thing, so plans are often hard to stick to.
The busy peak Christmas season for the Resort also coincided with my busy season for both Shabby Art Boutique and Woodberry Designs. Add the production of a magazine and an eight week 'Simply Christmas' event into the mix and it was an exhausting and often overwhelming and stressful few months.
I had very little time to visit my friends in blogland and even less time to stop and leave comments. Keeping up with social media, sponsor commitments and visiting all the links for Shabbilicious Friday added to the stress. Following up with the enormous amount of emails it all seems to generate was doing my head in and keeping an eye on statistics, pageviews and various analytics for advertisers was as they say. . . "the straw that broke the camel's back".
Achieving BALANCE for 2014 wasn't really a choice. . . it was a necessity!
[SAB – Vintage Creativity Planner]
So here was my dilemma. . .
I didn't want to give up any of my 'jobs'. . . for I love them all. . . so I had to find a way to make them all work.
I gave it a lot of thought over the Christmas New Year break. I took a few weeks off from blogging and creating and really just pondered what I wanted in 2014.
Making a list (you know how I love a list or two). . . of the pro's and con's really helped sort out my priorities. In the end, how to achieve balance and less stress was quite obvious and simple.
[SAB – Vintage Creativity Planner]
Our business, Shelly Beach Resort is our livelihood. That's my 'job' now.
I love to blog. I love producing the magazine. . . and I love creating new designs and making things for Woodberry Designs. They are now my passion ♥
So this is what I decided. . .
I don't need to earn an income from blogging. . . therefore, I don't need to worry about advertising, statistics and schedules anymore.
I'll blog when I can and about whatever I like. No pressure.
If sponsored opportunities come along that I think will benefit you, I'll consider them. If businesses want to advertise with me that's okay too, but I'm not getting all tied up with providing statistics and analytics.
It's difficult to keep the magazine running to schedule when so many people are contributing to it. Lots of other factors come into play and I end up spending many sleepless nights just trying to get it out on the scheduled date. But does it matter to you what week of the month it comes out. . . I suspect not! We'll work towards a date, but as long as it comes out in the allocated month, all is good! Less stress!
With the extra time and less stress I'll now be able to spend more time creating in my studio space. That means more new designs will be available for Woodberry Designs in 2014.
I think finally I have found the perfect balance for my life.
[SAB – Vintage Creativity Planner]
These photos are from my 2014 Vintage Creativity Planner.
I released it as a limited edition free download last week.
Several hundred copies have now been distributed, so I hope there are many other friends out there enjoying my vintage planner too.
If you missed it, it will remain available in my Boutique for the remainder of 2014 for a very small cost.
[SAB – Vintage Creativity Planner]
There's a gorgeous vintage calendar, plus a creative planner that includes a blogging schedule and planner, pages to document your statistics & analytics, pages for business contacts and computer logins and passwords, creative project pages and shopping lists. All of these can be printed off as required and compiled into one or more books, so you can keep tabs on 2014.
I'm looking forward to sharing my creative journey with you in 2014.
I'd be thrilled if you'd like to connect with me at the following places. . .
or if you'd like my posts delivered directly to your Inbox
Subscribe to Shabby Art Boutique by Email
Hugs ~ Kerryanne